Congratulations on the following nominees!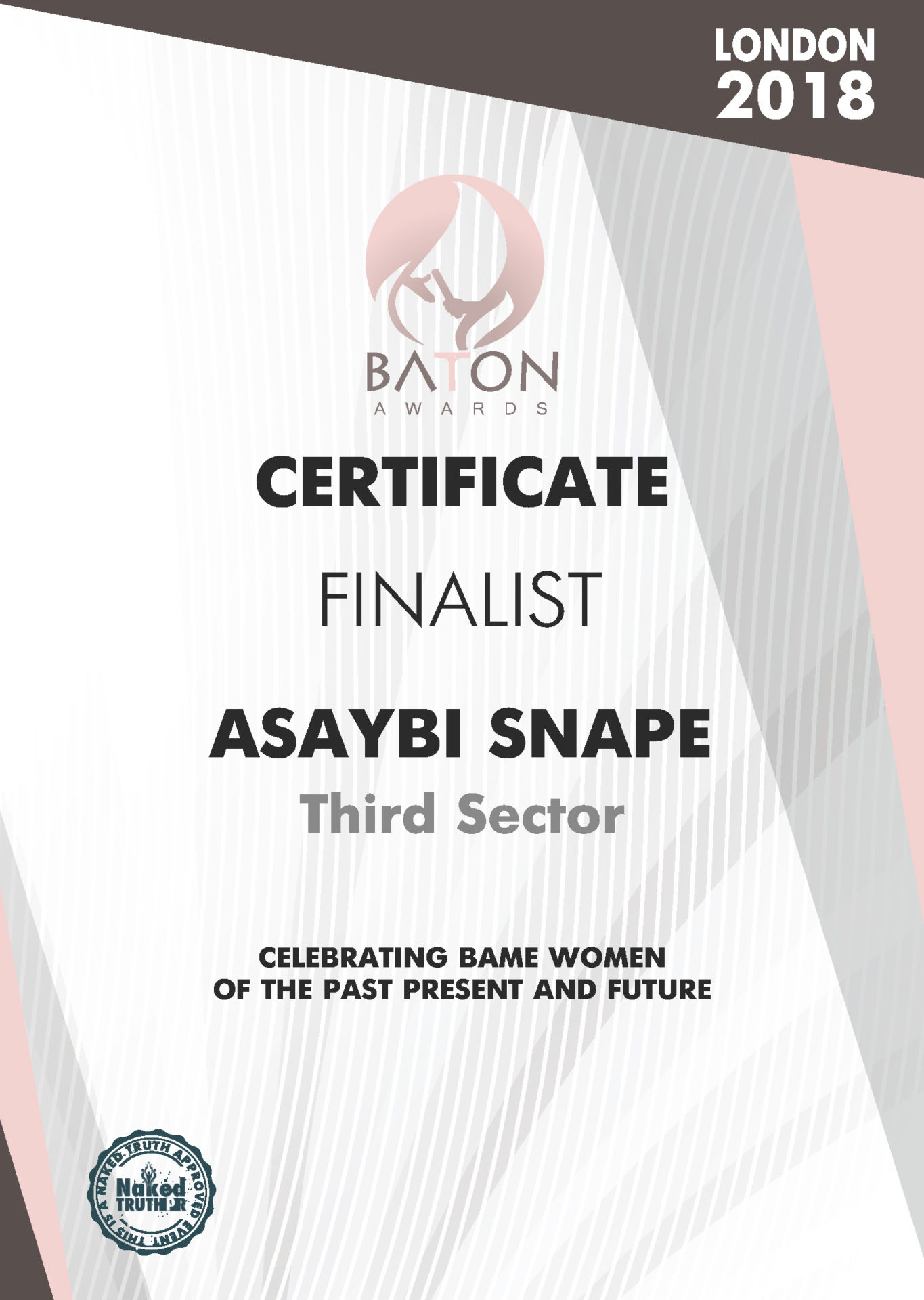 Asaybi Snape
Voted by the young people whose lives she has impacted, Asaybi Snape is a youth advocate and consultant; who has worked to influence the law and policy that reflect the needs of young people from disadvantaged communities in the UK. Asaybi founded a youth led human rights organisation; GEMs to engage young people directly in social change and politics to address issues within the community of Birmingham and nationally.
Asaybi is an expert on girls and gangs and has created resources on the topic, one of which has been added to national curriculum as a part of PSHE to further that education across the UK.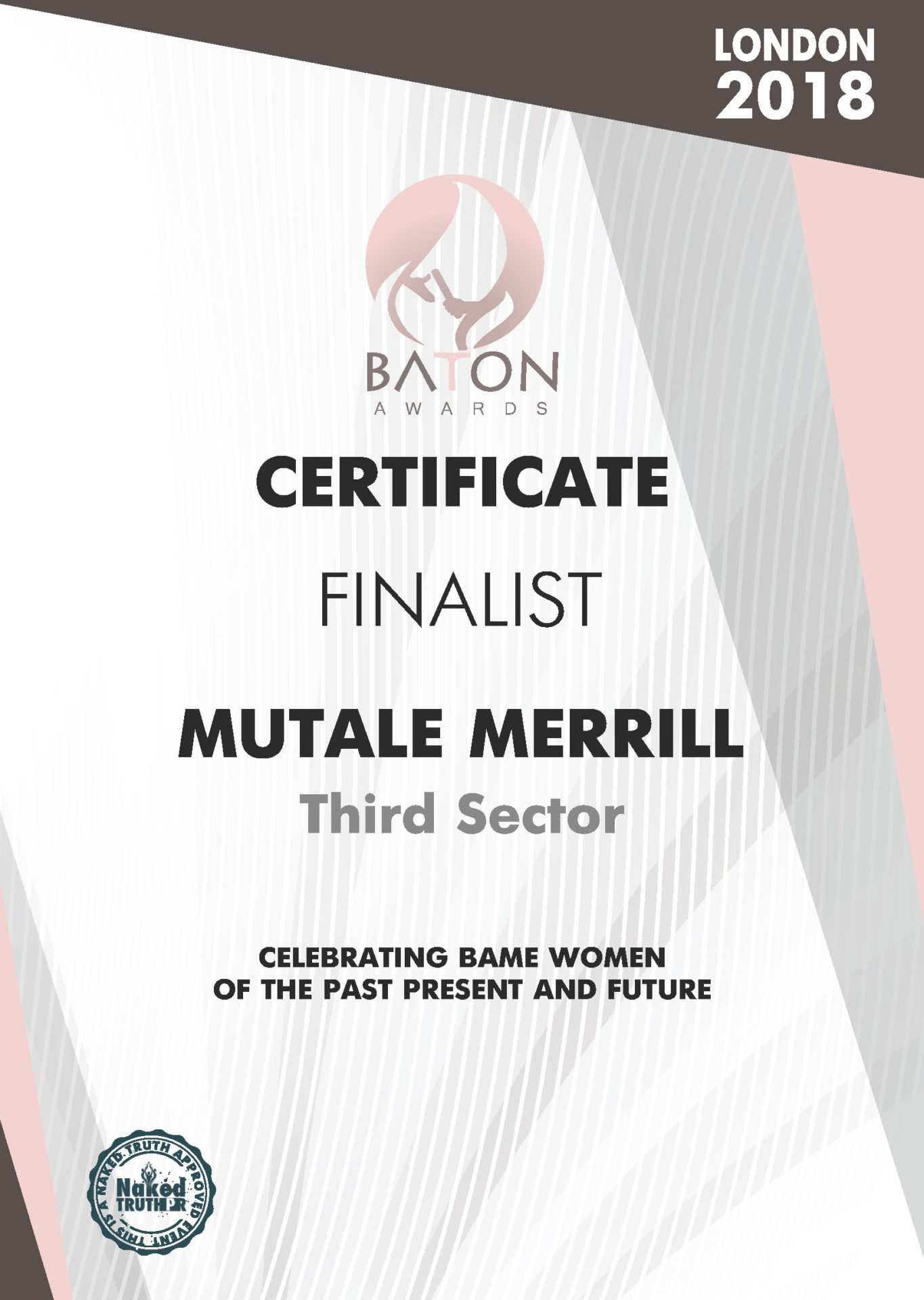 Mutale Merrill OBE
This former Welsh Woman of the Year received an OBE in 2008 for her work in social care and the voluntary sector. She is the founding chief executive of Bawso, a leading third sector provider for BAME women and children facing domestic and other forms of abuse and violence.
In 1997 Mutale was the Welsh Woman of the Year for her work in the community, and in 2006 received the Welsh Woman of the Year Val Feld Award for the individual who has made a difference to Welsh life.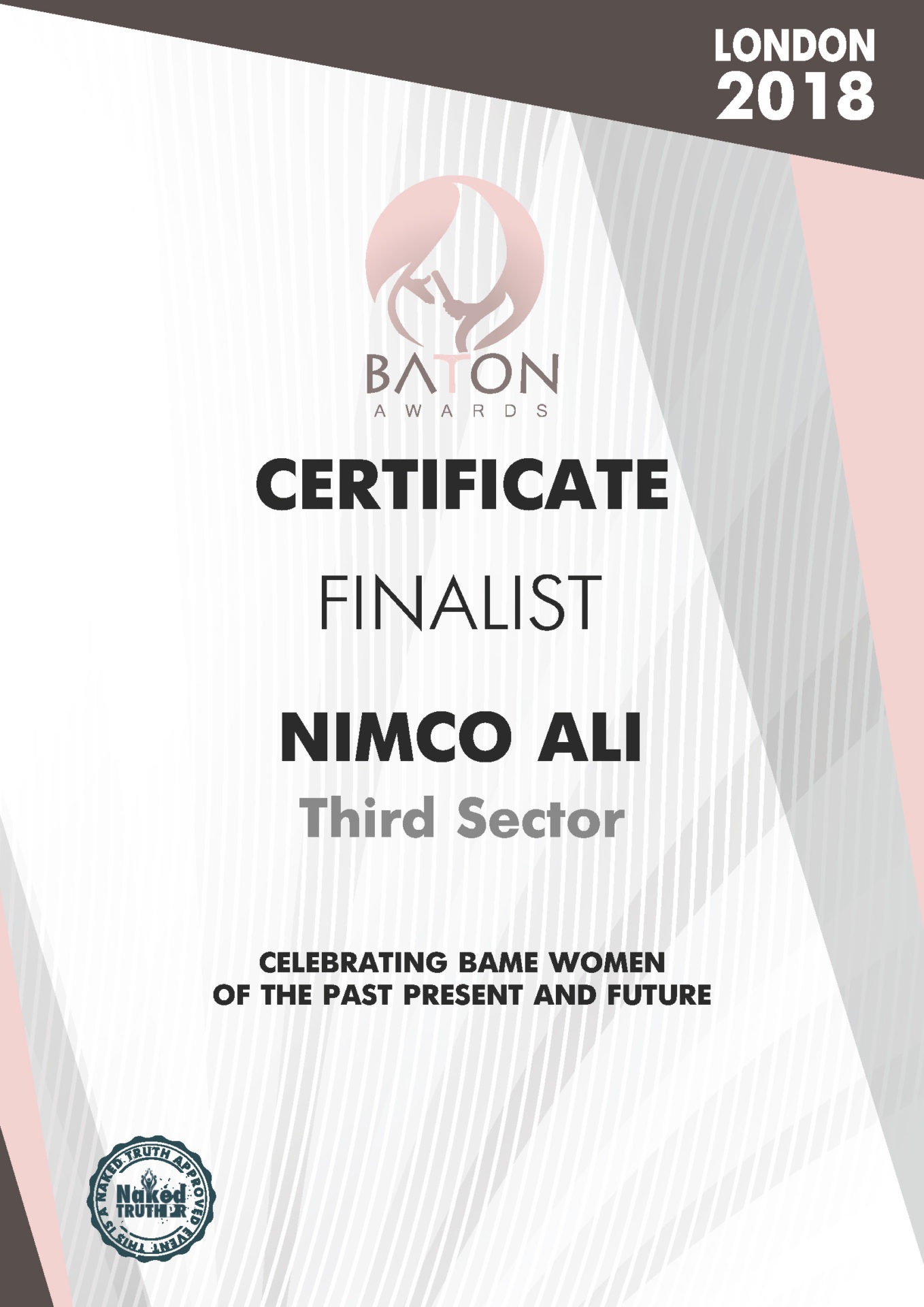 Nimco Ali
Nimco is a British Somali feminist and social activist. She is co-founder and director of Daughters of Eve, a survivor-led organisation which has helped to transform the approach to ending female genital mutilation (FGM). In 2014, she was awarded Red Magazine's Woman of the Year award, and also placed at No 6 on the Woman's Hour Power List.
An FGM survivor at aged 7, Nimco was voted in by the women she has helped and saved.
Deborah Obaseki
In 2013, Deborah carried out extensive research on the issue's women face in the workplace, In 2014, she started her first business working to educate young ladies from secondary school level to graduate level based on what she learnt from some really influential women in their field. These projects have impacted over 1000 young ladies so far and she has worked with schools and corporates across the UK.
This year she has expanded her work by starting a new initiative under her social enterprise 'The Women's Association' that looks to address issues women from the BAME community face.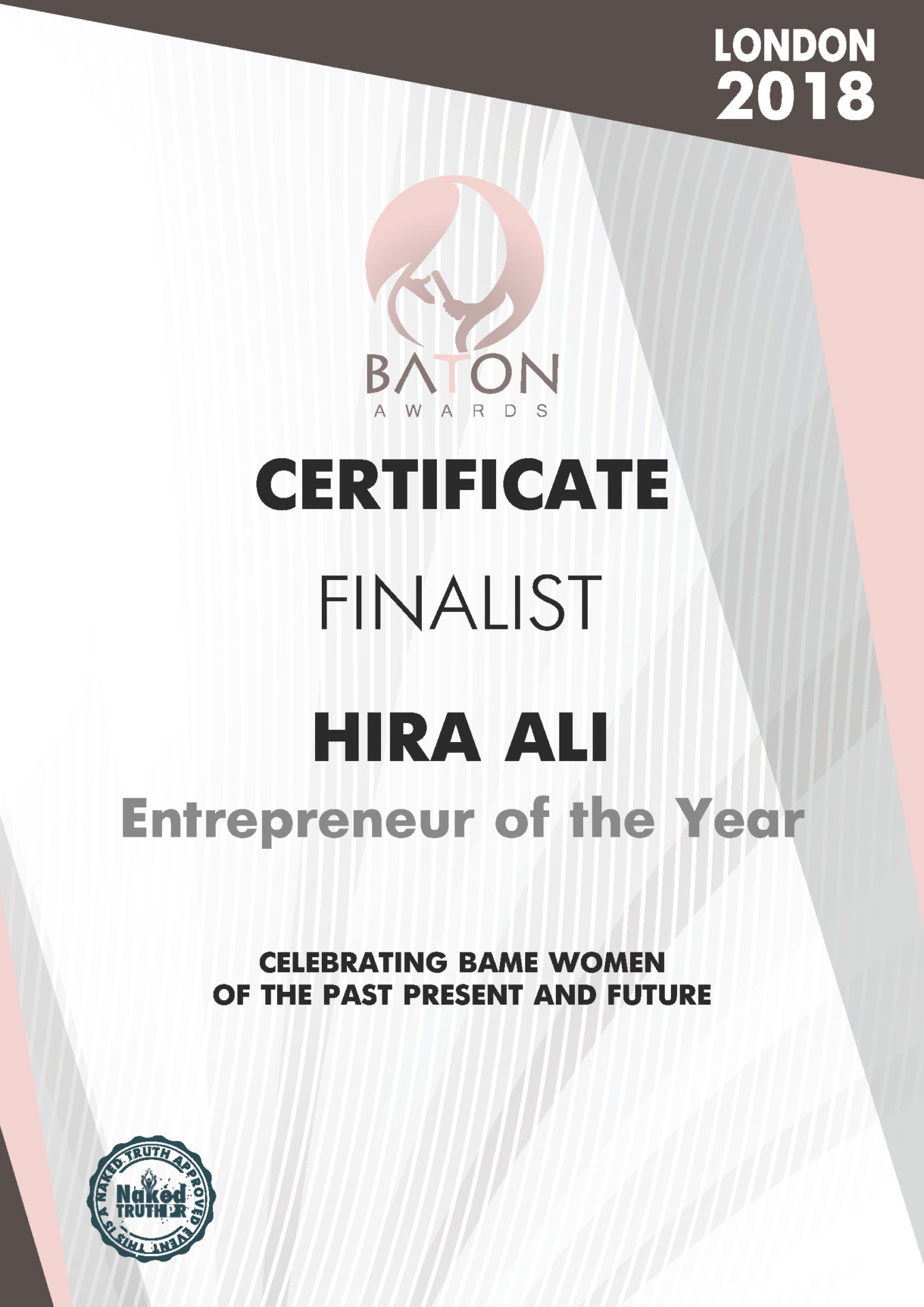 Hira Ali
Motivational Speaker, Writer, Executive Career Coach & Licensed Neuro Linguistic Programming (NLP) Practitioner. Over the past decade, Hira has coached hundreds of people across industries, professions, and ethnicities. Hira is an accredited member of the International Coach Federation and Association for Neuro Linguistic Programming.
In her upcoming book, Her Way to the Top: The Glass Ceiling is Thicker Than It Looks, she highlights the career challenges faced by women globally and the cultural implications.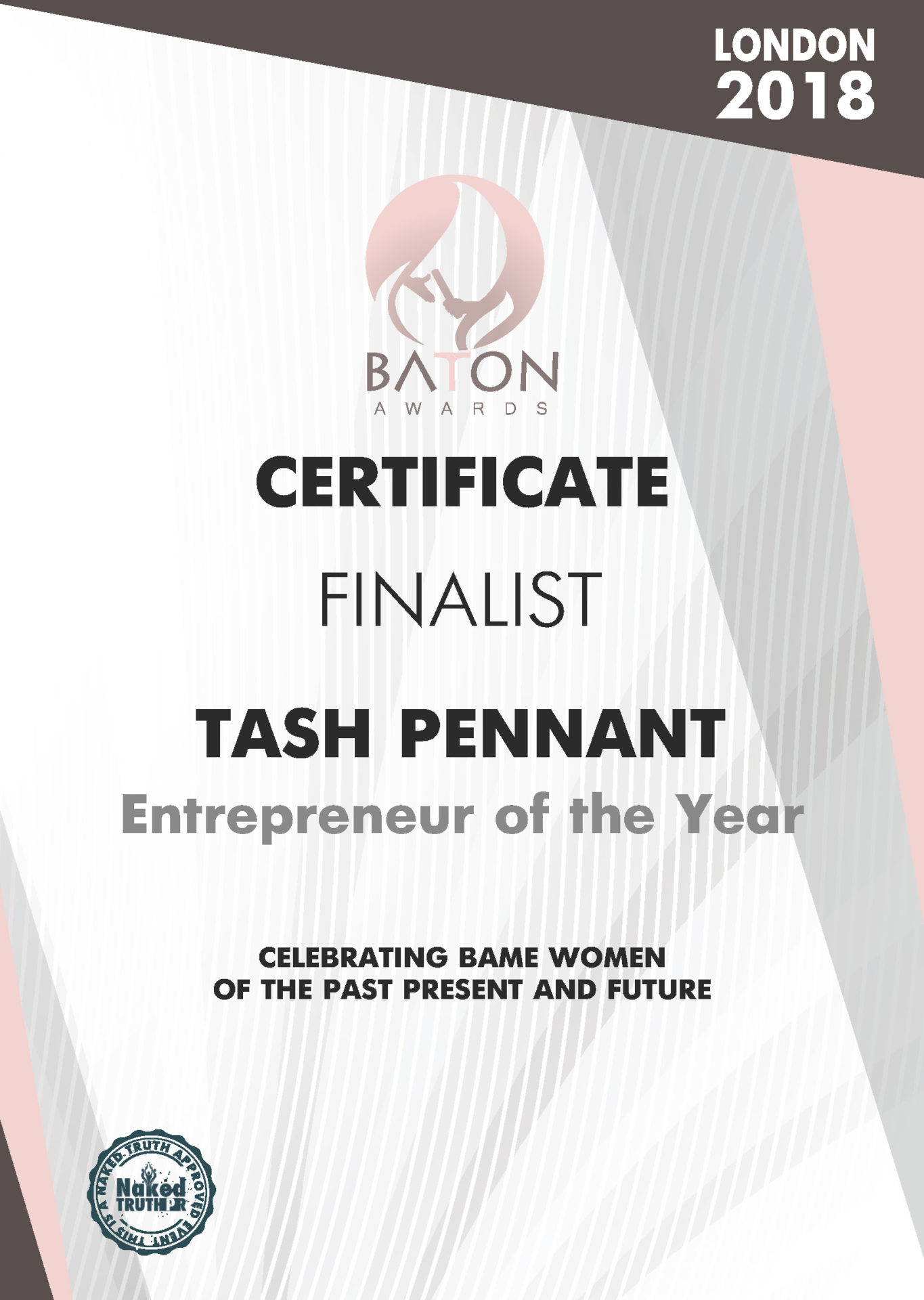 Tash Pennant
Tash Pennant is the founder of Tash Pennant Consultancy. She is an award- winning communications and leadership consultant specialising in internal communications and employee engagement. Her work spans a range of sectors and range of organisations with significant impact within the UK.
Most recently, Tash has been profiled by the #ShesTheBoss campaign and Precious Online. She was also nominated for a WeAreTheCity Award too.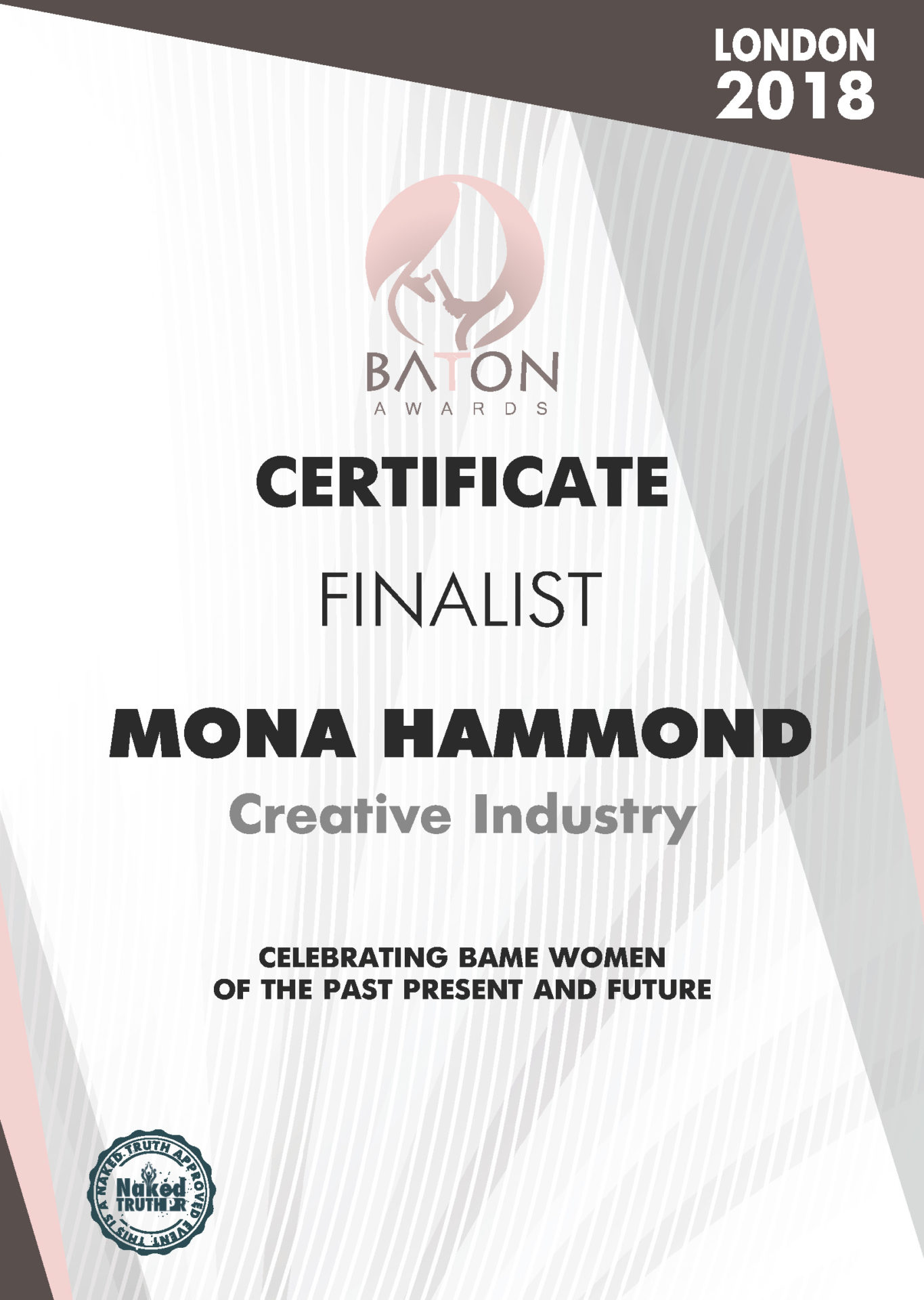 Mona Hammond OBE
Mona Hammond, OBE is a true pioneer who has graced our television screens for more than five decades. AJamaican actress of Chinese descent and co-founder of the Talawa Theatre Company, Mona has had a long and distinguished stage career. She is best known for her work on British television, which has included various roles in sitcoms and playing Blossom Jackson in the BBC soap opera EastEnders.
She was made an OBE in the 2005 Queen's Birthday Honours List for her services to drama. In 2018, Hammond was awarded the Women of the World Lifetime Achievement Award for her long and distinguished theatre career, and for championing black British actors with Talawa Theatre Company.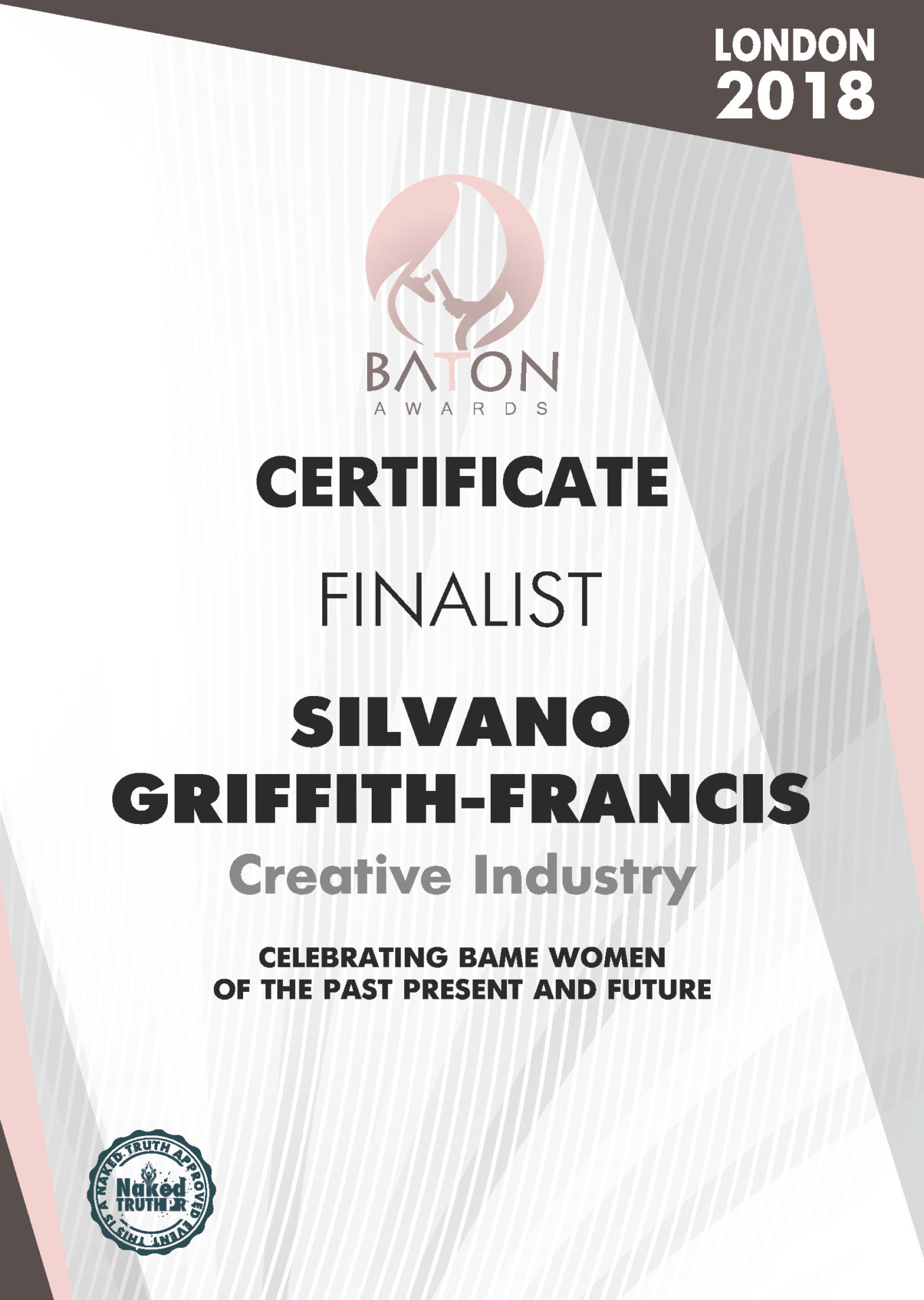 Silvano Griffith-Francis
Nominations came in from all over the world for Silvano, kwho is an actress, writer and producer. She holds a degree in Creative Arts, and a Cert HL in Theology. In 2013 she resigned from her position at the BBC to pursue these passions full time. Her vision was to provide Christian actors with the opportunity to use their gifts without having to compromise their faith. She went on to win the Wise Women award for this work. To  date she has ventured to over 63 countries worldwide.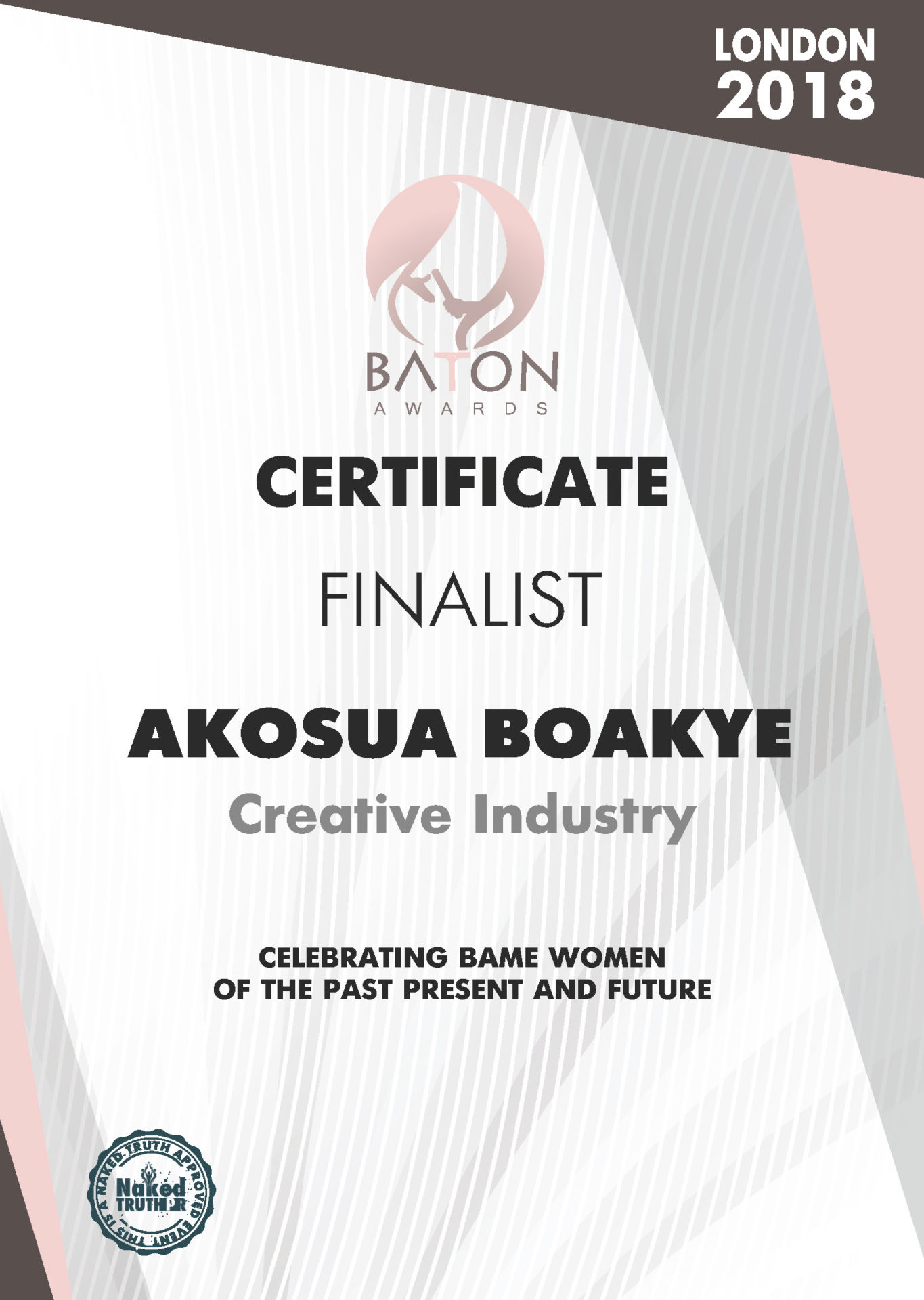 Akosua Boakye BEM
Akosua Boakye BEM, plays a key role in developing young talent for careers in dance and the performing arts industry in Britain. She is the founder of AkomAsa Performing Arts Academy, Dance lecturer and PhD researcher at Canterbury Christ Church University (CCCU). AkomaAsa's training programme amalgamates Western and African diasporic performing arts for young people aged 7–16.
Akosua is also the Children's Casting Coordinator for Disney's West End musical The Lion King. Her role includes scouting, training and preparing young performers with the potential to play the roles of Simba and Nala in the production.
Nazia Khatun
A British Bangladeshi Muslim female, her specialisms are in Mind & Body Transformations. As a former boxer Nazia suffered from bulimia and anorexia and she has since worked to address some of the major issues that young South Asian females face when trying to create a healthier lifestyle and maintaining it.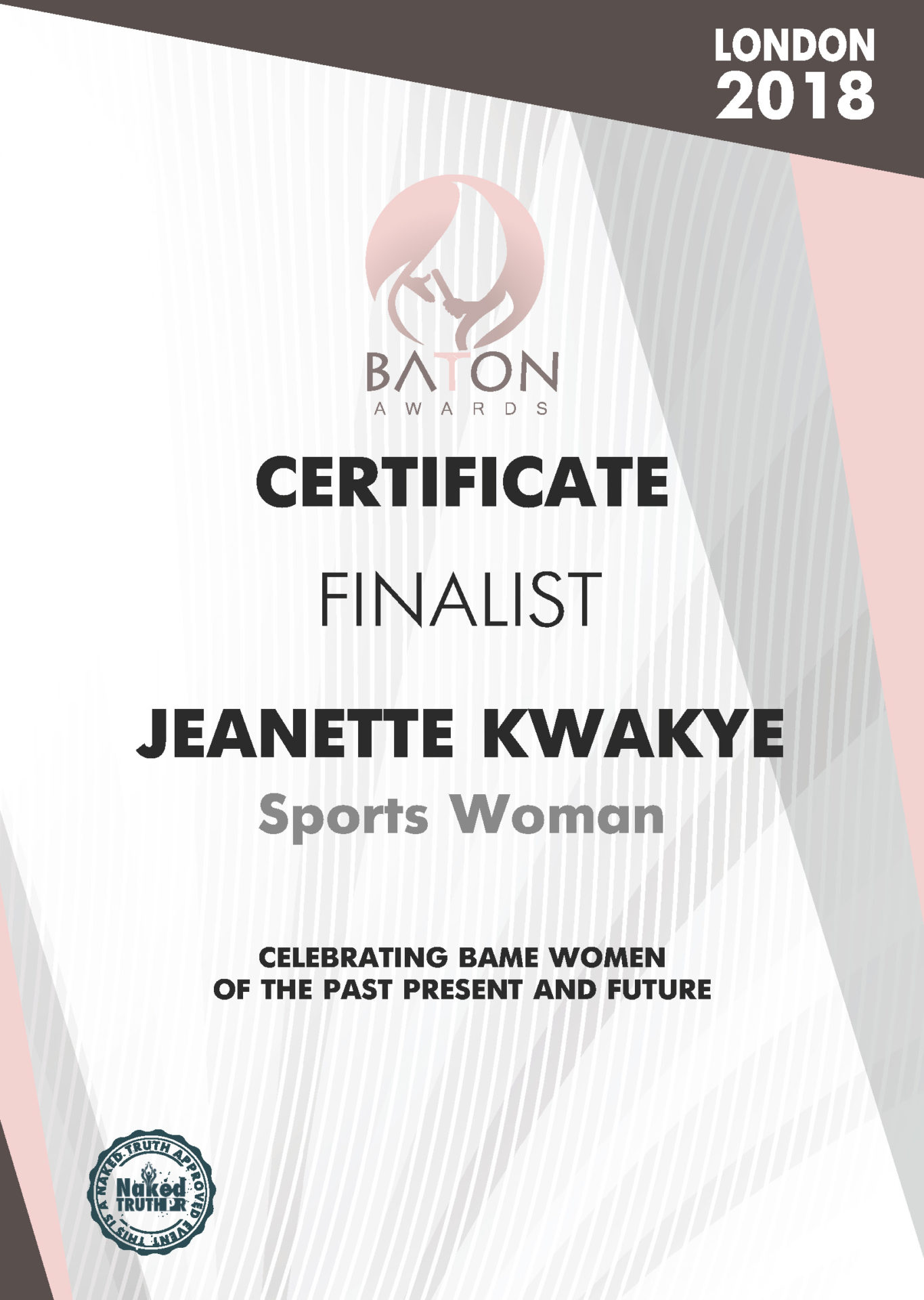 Jeanette Kwakye
Jeanette was a multiple British champion over the 100m and 200m. Her highest-ranking achievement being the 100m Olympic final in 2008. The first British woman to achieve this feat in 24 years.
In 2017 Jeanette published the children's book, Femi The Fox. Featured on BBC Africa. She is an advocate for youth empowerment via sport and has worked with the Youth Sport Trust Charity since 2010.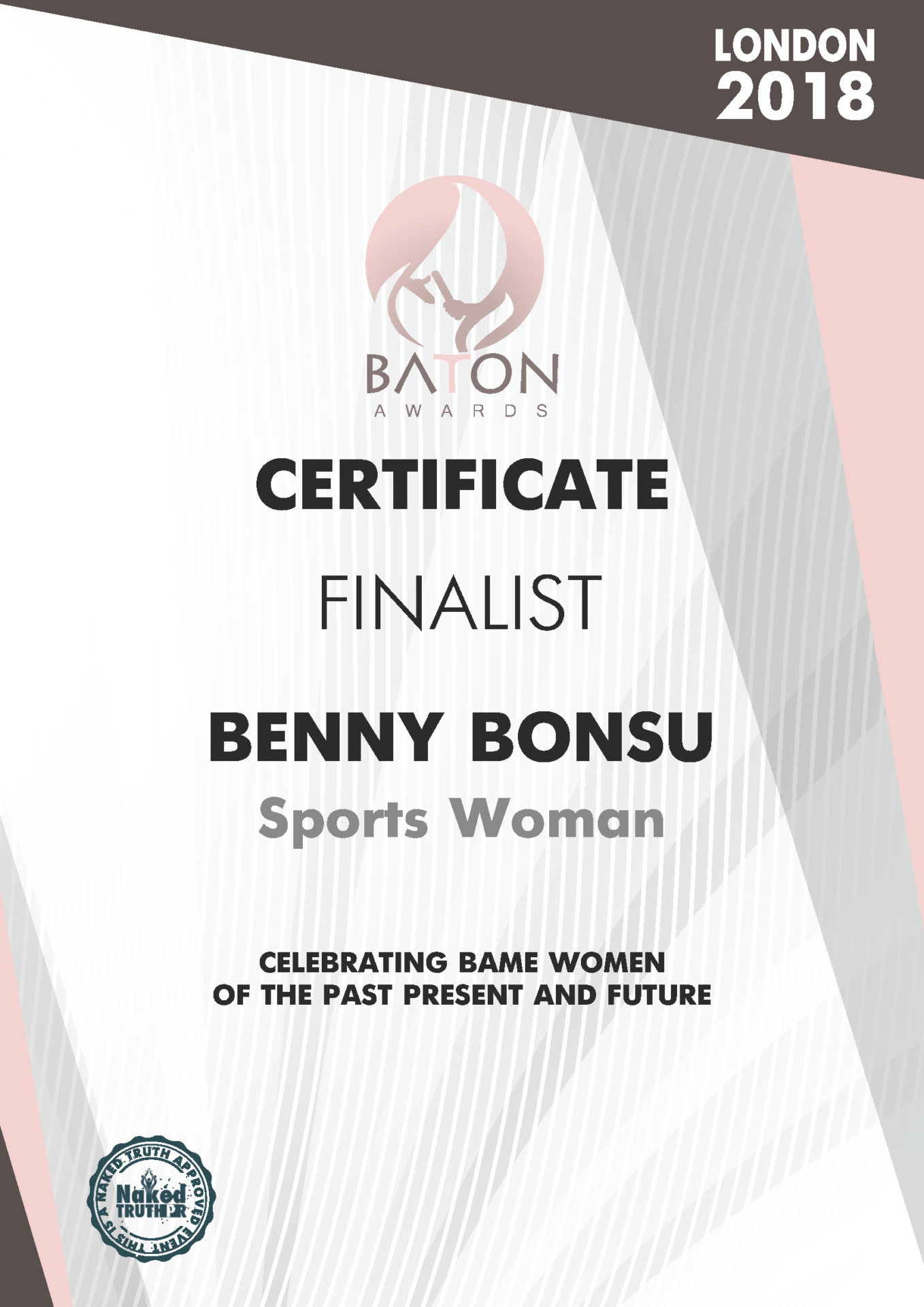 Benny Bonsu
Benny Bonsu is a multiple award-winning dynamic powerhouse in sports broadcasting and education. Having worked with some of the biggest sporting organisations globally, she is now the face of NBA broadcasting globally and now one of the lead producers for IMG in the EuroLeague. One of the most respected leading women in sport business and beyond in a lane of her own. Changing the narrative of BAME women in sports globally.
Political Figure of The Year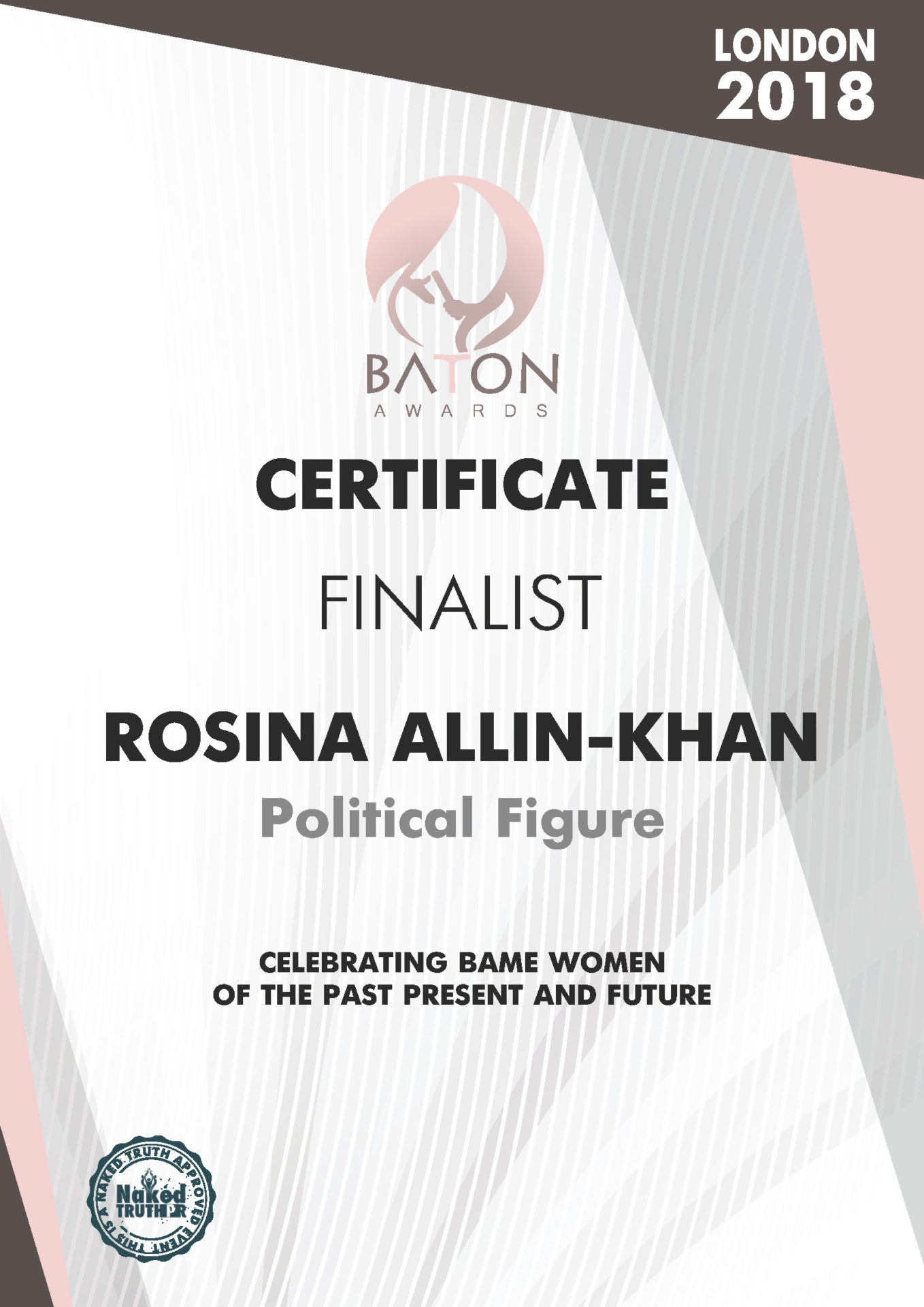 Rosena Allin Kahn
Rosena Chantelle Allin-Khan MP is a British Labour Party politician who has been the Member of Parliament (MP) for Tooting since 17 June 2016. Following the vacancy caused by the resignation of sitting Labour MP Sadiq Khan after his election in May 2016 as the Mayor of London, she held the seat at the 2016 by-election. Allin-Khan was appointed as the Shadow Minister for Sport in October 2016.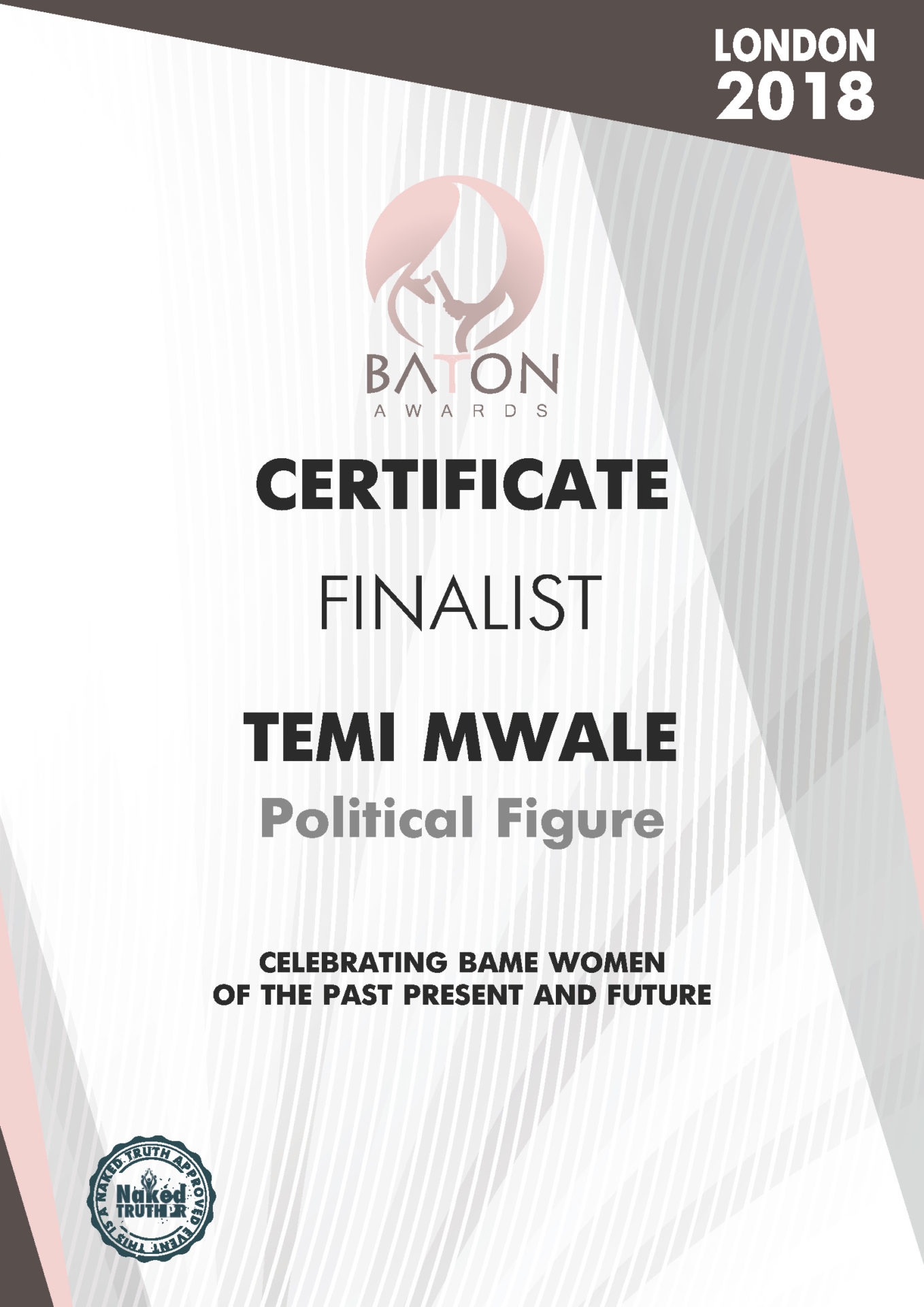 Temi Mwale
Temi Mwale is a social entrepreneur, educator and campaigner. She is the founding director of The 4Front Project, a youth-led social enterprise on a mission to empower young people and communities to live free from violence. Driven by the tragic death of her close friend, Marvin Henry, she set about starting a truly youth led initiative where young people affected by serious violence can get support and be at the forefront of change in their local communities.
 At just 23-years-old, she has already received a Cosmopolitan magazine 'Ultimate Women Award' and the Prime Minister's Points of Light Award, in addition to being named IARS Peacemeaker of the Year.
Patsy Cummings
Patsy Cummings is one of the three Labour councillors for South Norwood and the Deputy Cabinet Member for Finance and Resources. She is also Croydon Council's BAME Champion working to represent Croydon's many diverse communities.
STEM Trailblazer of The Year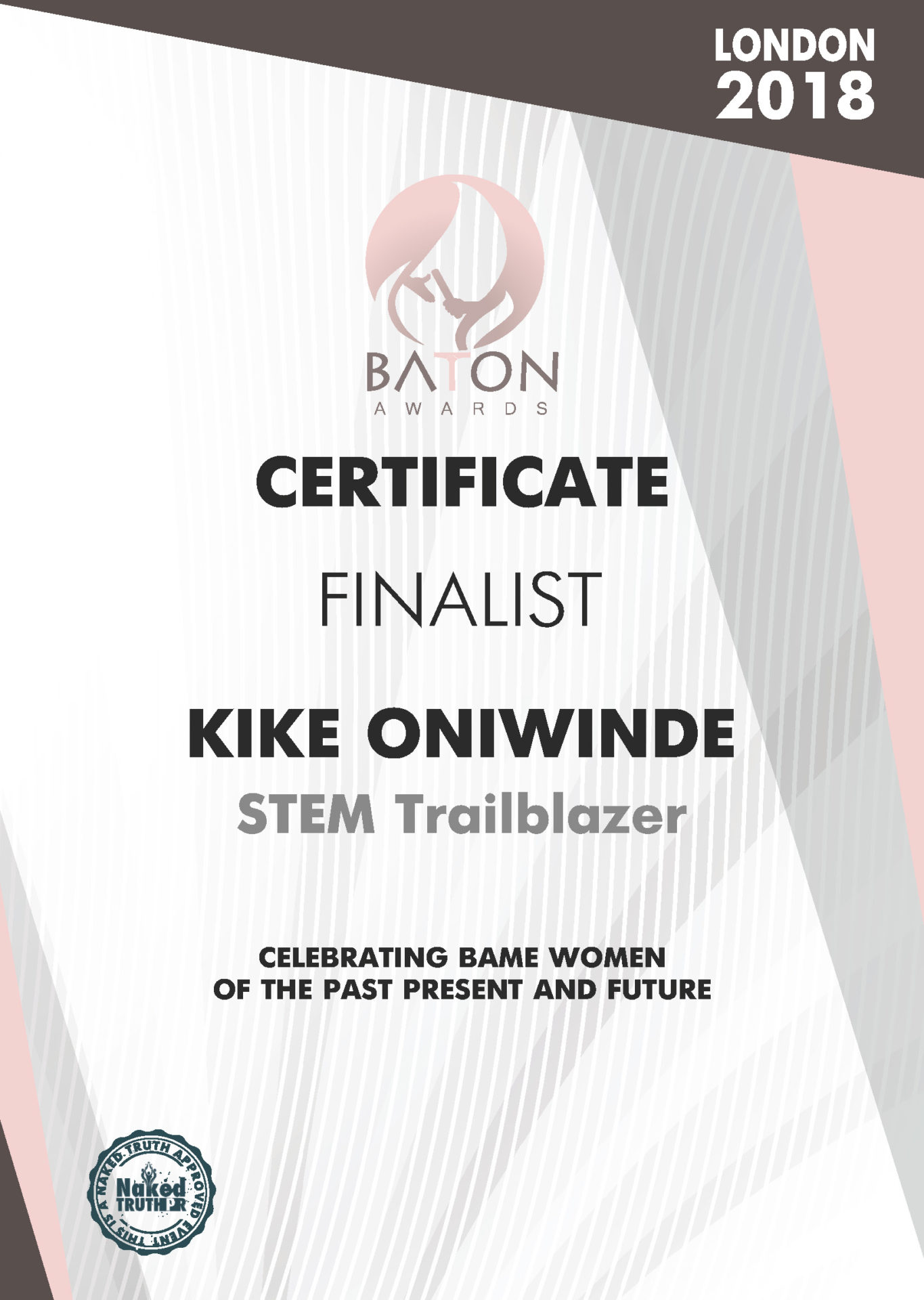 Kike Oniwinde
A 25-year-old Founder and CEO of BYP Network, the platform that connects black young professionals with each other and corporations. She launched an app with over 7000 downloads and has hosted over 2000 professionals in Events.
She is also a World Economic Forum Global Shaper and has ambitions of changing the world.
Leonor Gonçalves
Leonor Gonçalves is a STEM trailblazer who went to Oregon Health and Science University (USA) as a trainee where she learned brain electrophysiology in just one year. In 2009 she gained her PhD in Neurobiology from University of Minho and University of Helsinki (Finland). She has been a Postdoctoral Associate Researcher since 2009 at University College London (UCL; UK) where she researches brain plasticity associated with chronic pain.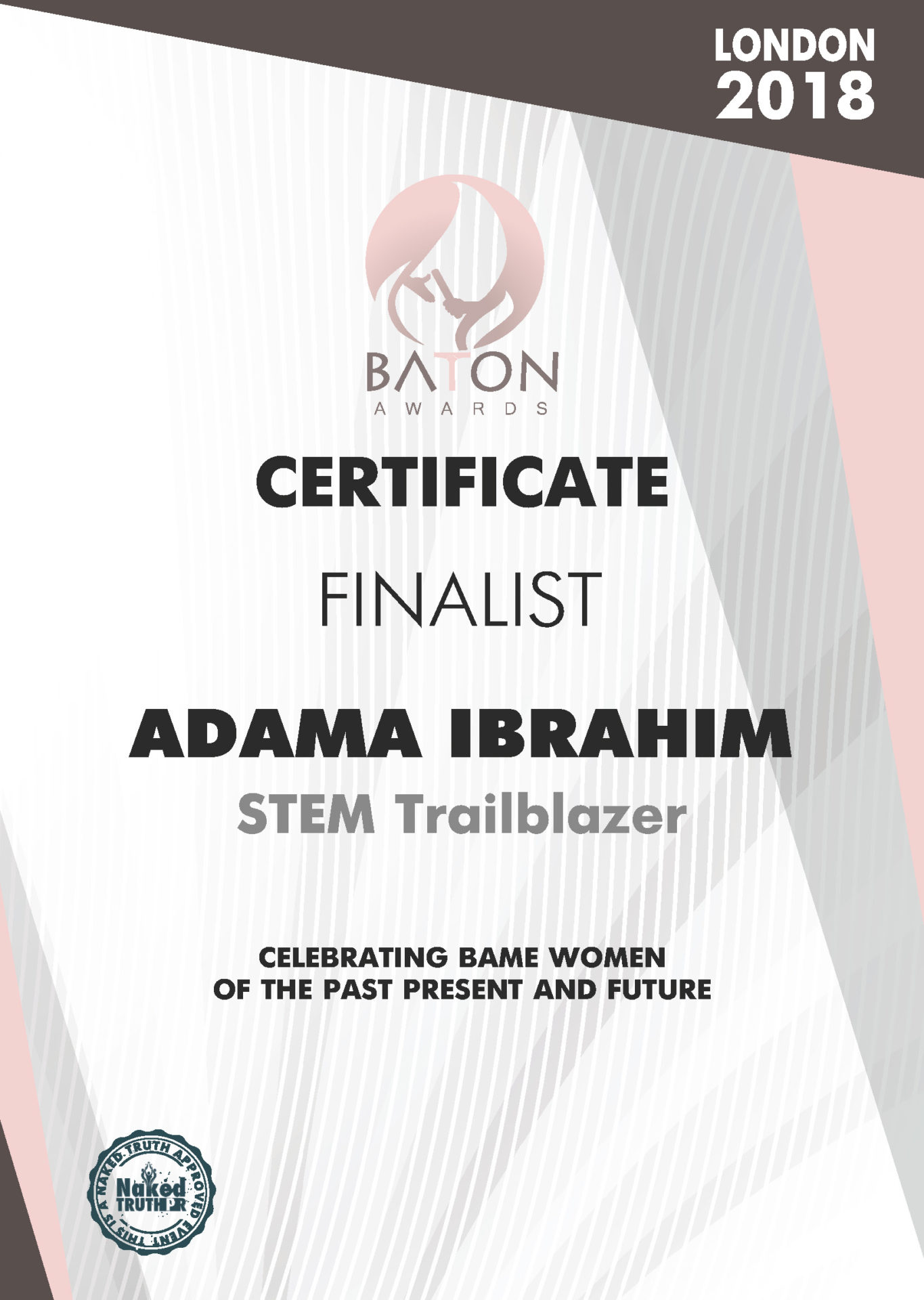 Adama Ibrahim
An award-winning operational strategy expert, blockchain advocate and patient engagement thought leader. She has over 17 years in the NHS on commission by the DOH and in the Pharmaceutical industry (e.g Hoffman La-Roche, Amgen, ALMAC, ICON and Biogen). An R&D transformation change champion. Currently part of the DIA Patient Engagement Voluntary Community Leadership team.
She was instrumental in putting together a summit (first of its kind) Operational Strategy For Clinical Trials in Africa (Nigeria), an event which took place in Vienna and attracted thought leaders from across the Pharmaceutical industry globally.
Nadine Marsh-Edwards
Described as one of the most outstanding film producers of her time, her films include Bharji on the Beach & Young Soul Rebels and Jo All Alone (BBC). Soon to be released on Netflix is her critically acclaimed film Been So Long (Netflix).
Nadine was Head of Drama Scotland for the BBC and has been running Greenacre Films since 2012.
Joanna Abeyie
Joanna Abeyie is an award-winning, Diversity champion and recruiter, social campaigner, TV executive, broadcaster, journalist and the founder of Hyden Trust. Joanna's work has been highly recognised by the Mayor of London and Joanna has been awarded her Freedom of The City, A Freeman for the Guild of Entrepreneurs and a Freeman for the Haberdashers Livery Company.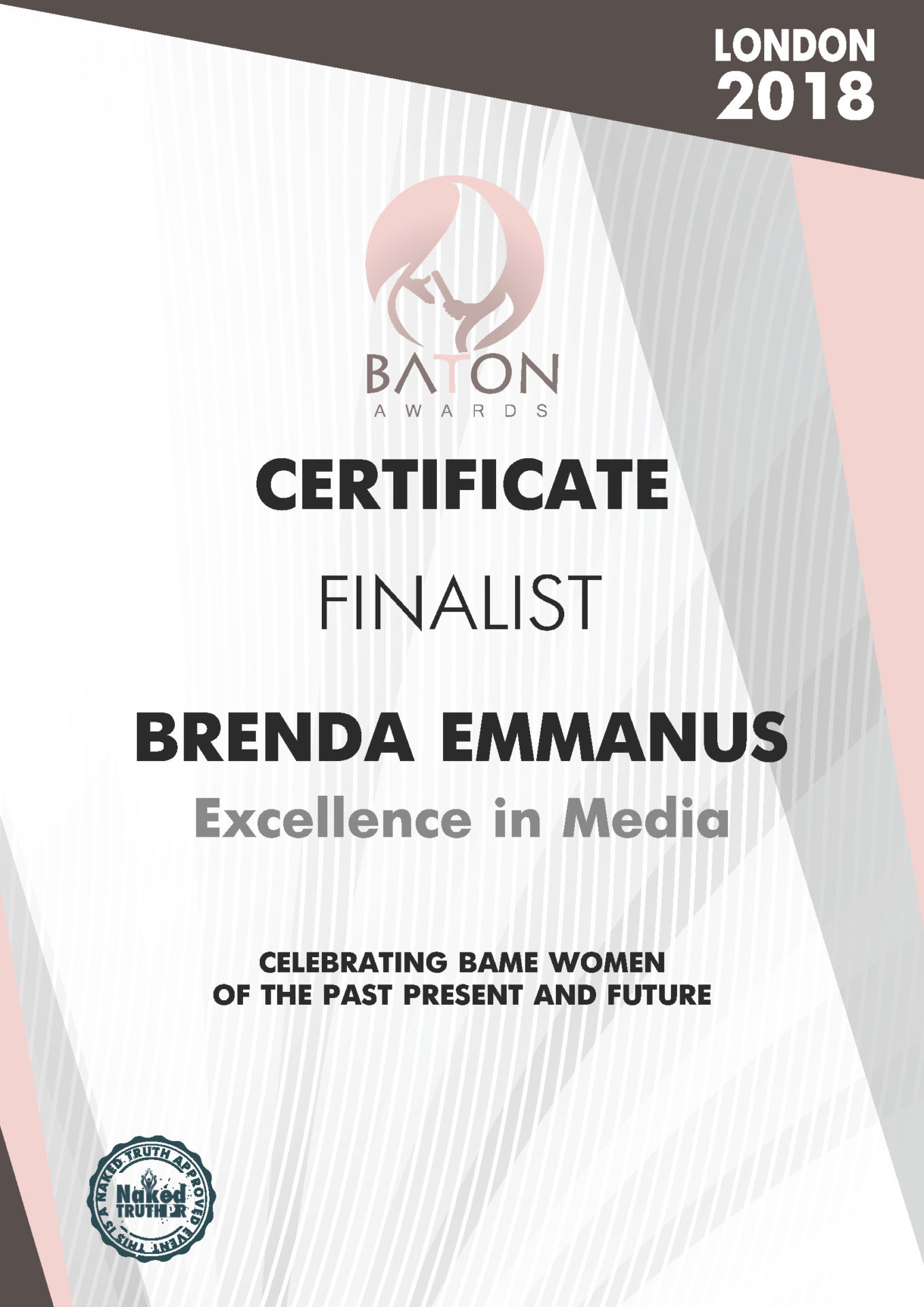 Brenda Emmanus
Brenda is BBC London News' Art, Culture and Entertainment Correspondent – a role which allows her to combine creativity and journalism across television, radio and on-line output. Most recently she has presented Charles I: Treasures Reunited and Whoever Heard of a Black Artist – both for BBC Two.
Previously an Arts and Features Editor for The Voice Newspaper, Brenda has also edited a specially commissioned magazine for International Women's Month. She has also had several short stories published and as a freelancer wrote feature articles for Luxure, Pride, Cosmopolitan and Caribbean Eye magazines, as well as The Observer and New Nation newspapers.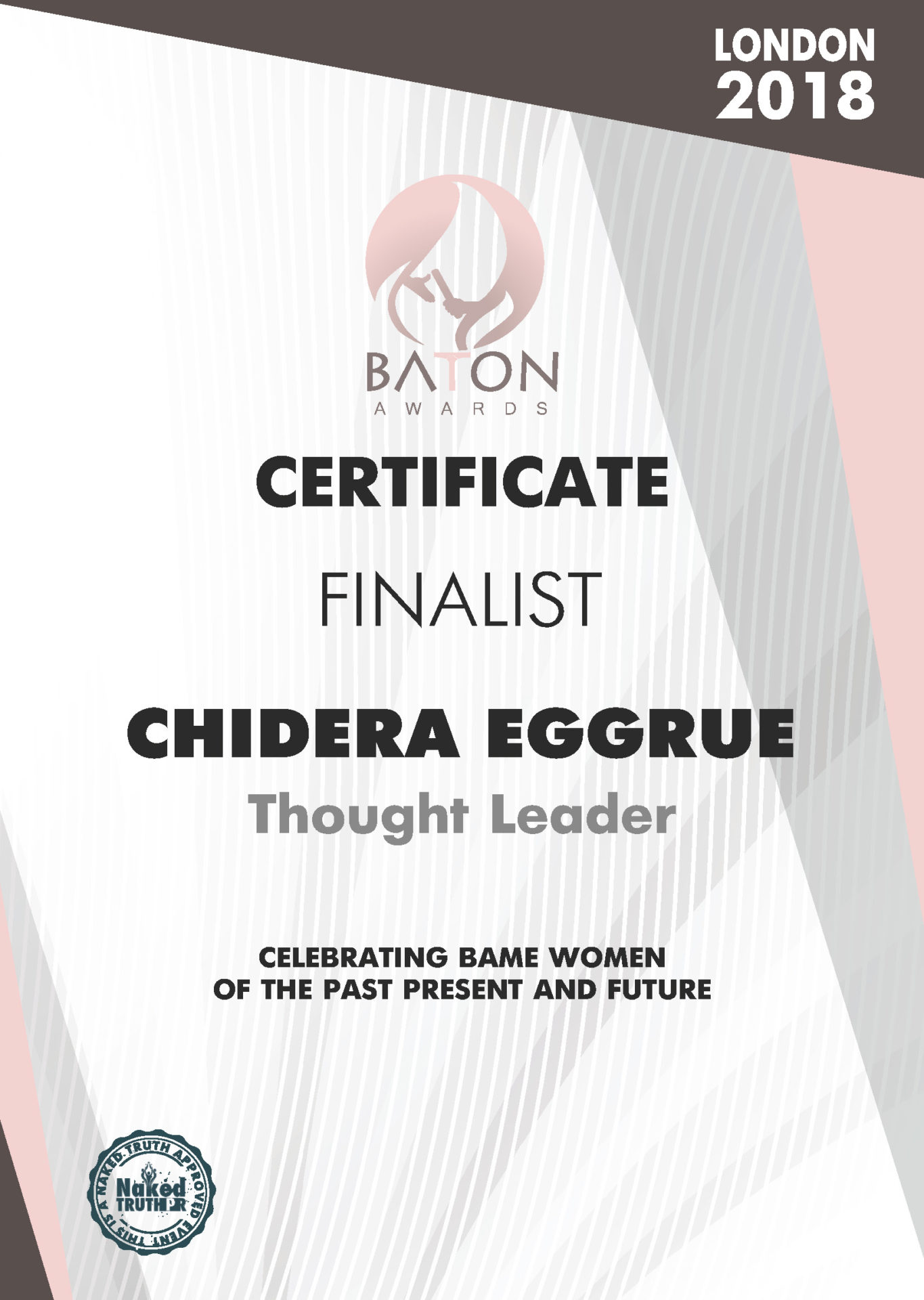 Chidera Eggrue
Referred to by Elle magazine as a 'millennial mastermind' in their 'Stars On The Rise: 20 Power Players To Watch Out For In 2018' list, Chidera Eggerue is an award-winning blogger and author who has managed to drive a new conversation regarding the way we view women's bodies – especially through the internet-breaking movement she created called #SAGGYBOOBSMATTER!
ELLE  – "The millennial mastermind" (2018)
THE DRUM – 50 of the Best Female Speakers (2018)
DAZED – "The Peckham native is this generation's agony aunt" (2018)
GLAMOUR – "The woman behind rising movement, #SAGGYBOOBSMATTER" (2018)
HARPERS BAZAAR – "Her influence has received an overwhelmingly warm, amazing response" (2018)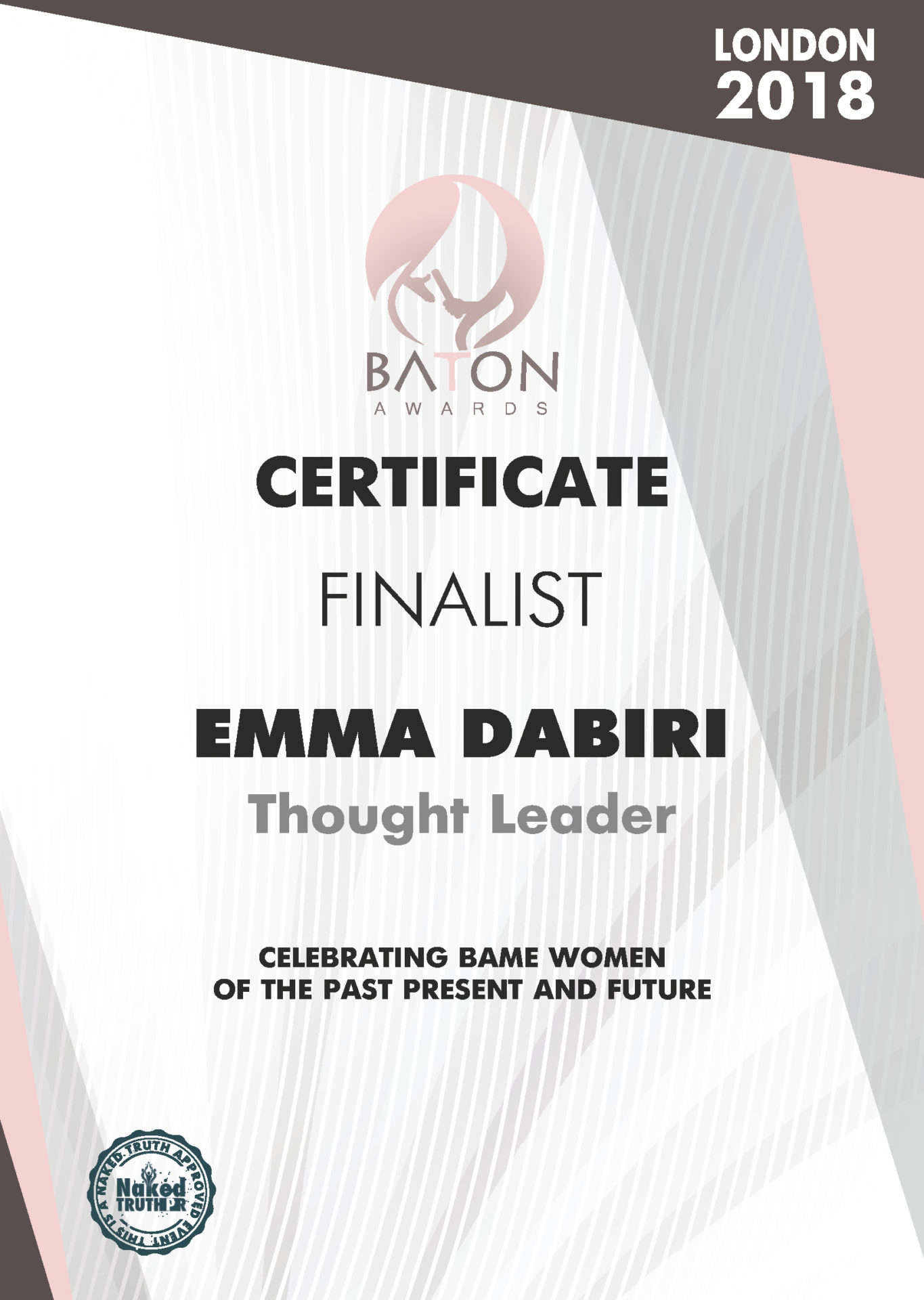 Emma Dabiri
Listed as one of the bbc's broadcasting stars of the future 2017.
Emma Dabiri is an Irish-Nigerian academic, writer, and broadcaster. She is currently a teaching fellow at the School of Oriental and African Studies in London and is working on her first book. Emma has previously presented Back in Time for Brixton and the Back in Time Confectioners series (BBC Two), Is Love Racist? (Channel 4. She currently co-presents Britain's Lost Masterpieces (BBC4). On radio she has hosted BBC Radio 4's Saturday Review and Front Row and her first Radio 4 documentary Journeys in Afrofuturism first aired in June 2018.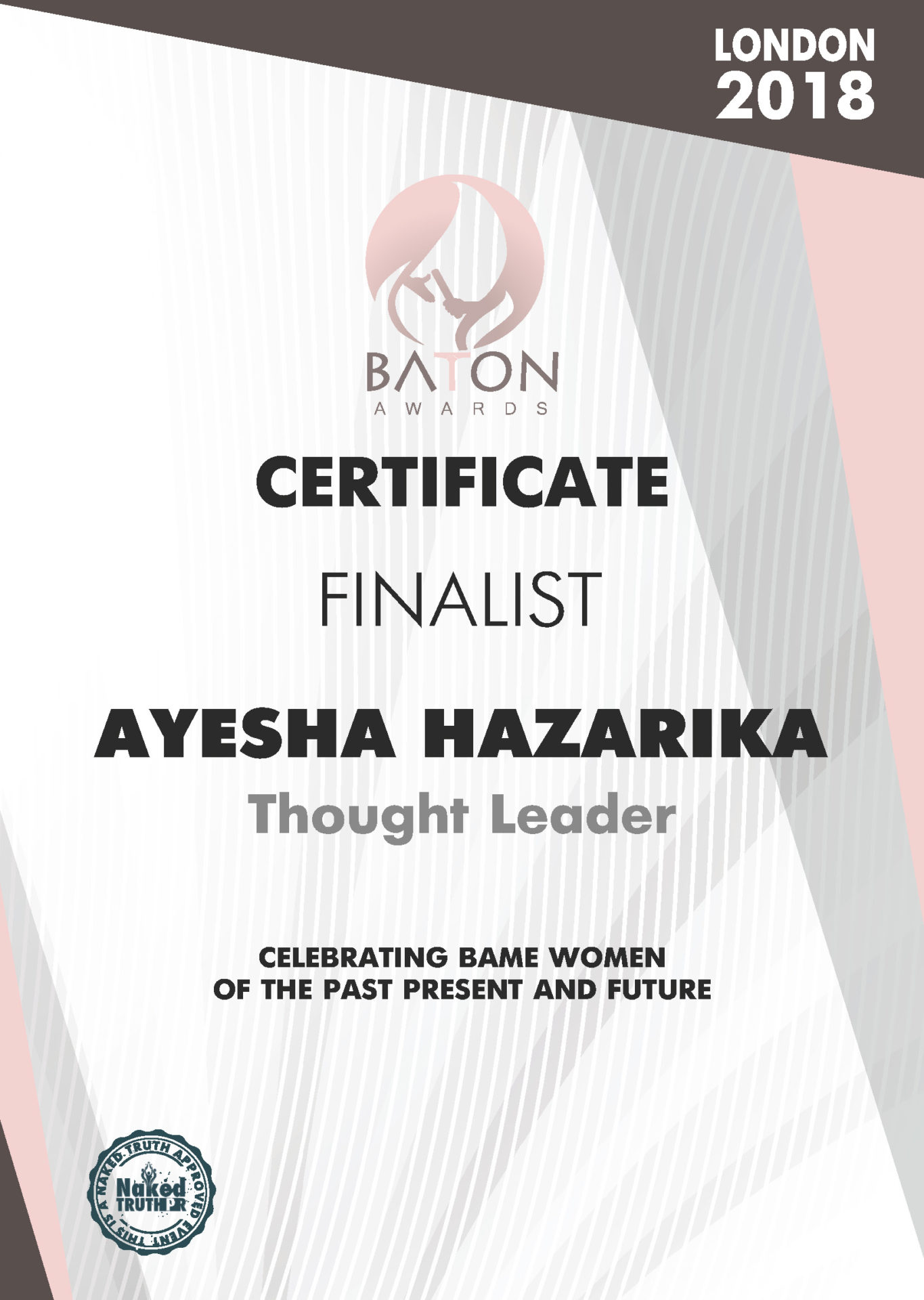 Ayesha Hazarika
From 2007 to 2015, Hazarika served as a political adviser to senior Labour Party figures, including Harriet Harman and Ed Miliband.
After leaving her role working for Harman in the aftermath of the 2015 general election, Hazarika was awarded an MBE in the 2016 New Year's Honours List, for political service.
As well as returning to stand-up comedy following her departure from Westminster, Hazarika has since become a regular commentator in the media.
International Woman of The Year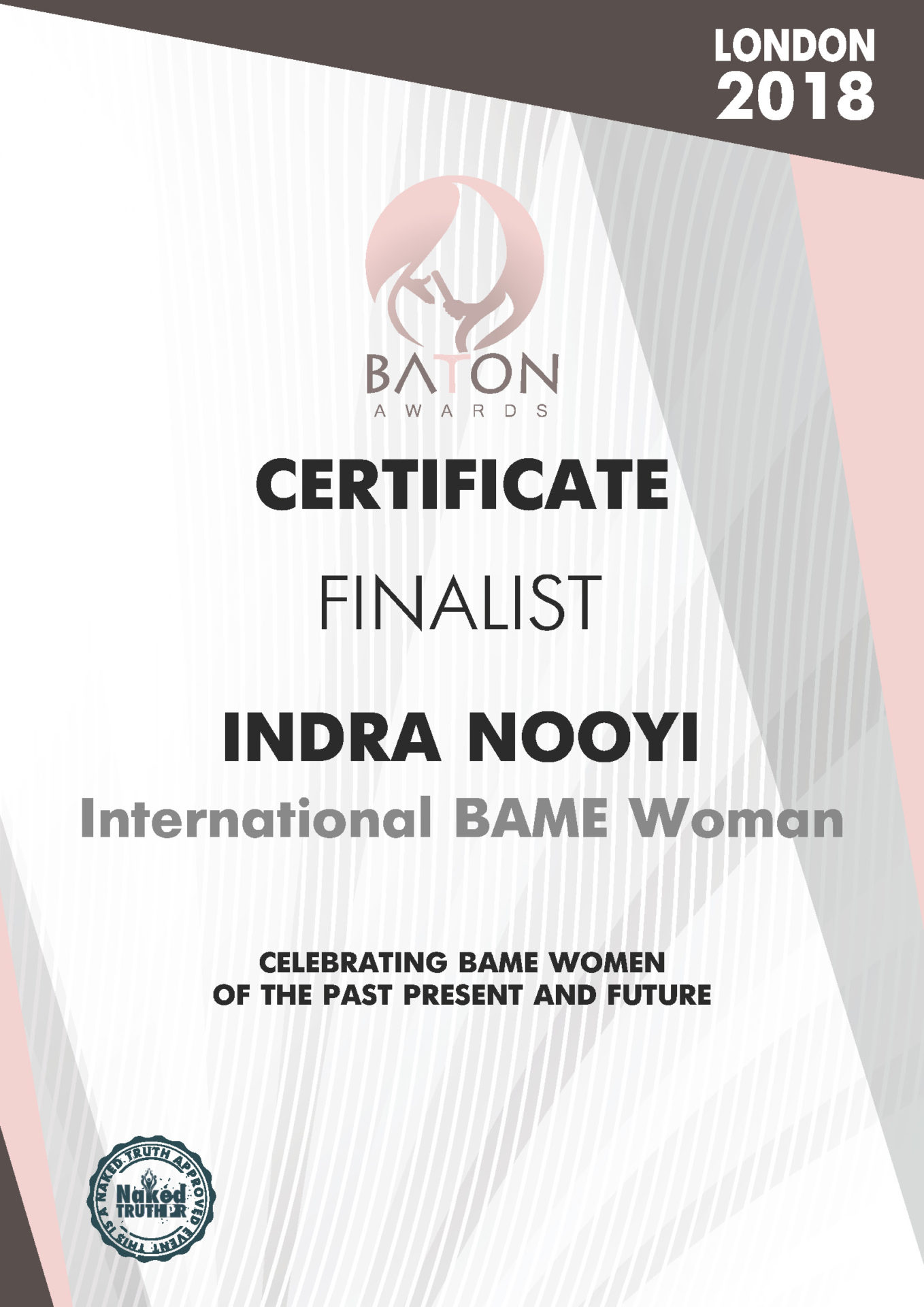 Indra NOOYI
Indra is an Indian American business executive, serving as chairman of PepsiCo, the second largest food and beverage business in the world by net revenue, and as CEO for 12 years from 2006-2018.
She has consistently ranked among the world's 100 most powerful women. In 2014, she was ranked at number 13 on the Forbes list of The World's 100 Most Powerful Women and was ranked the 2nd most powerful woman on the Fortune list in 2015.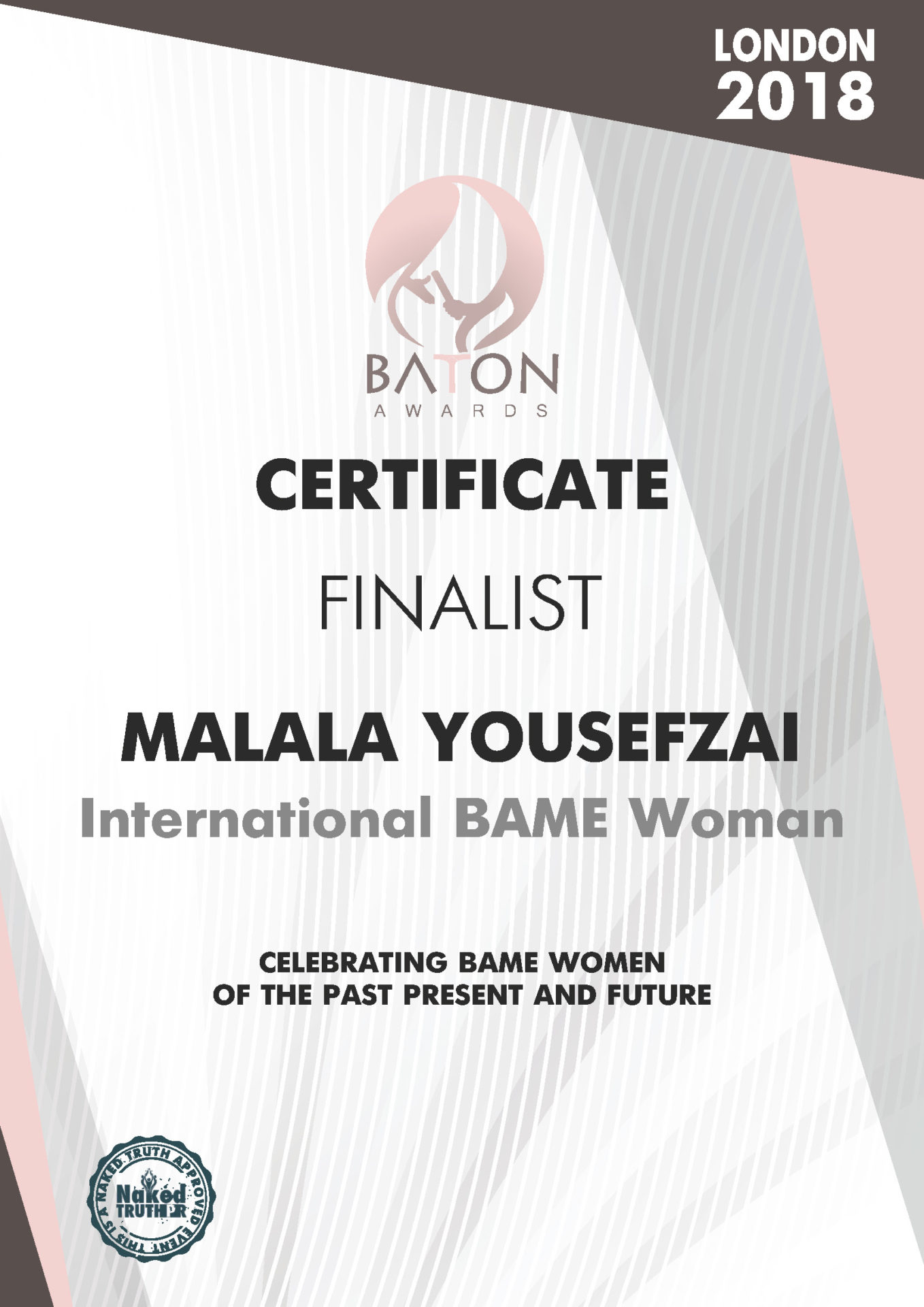 Malala Yousef Zai
On 9 October 2012, while on a bus in the Swat District, after taking an exam, 14-year old Malala was shot in the head by a Taliban gunman in an assassination attempt in retaliation for her activism.
Today an activist for female education and the youngest Nobel Prize laureate. She is known for human rights advocacy, especially the education of women and children in her native Swat Valley in Khyber Pakhtunkhwa, northwest Pakistan, where the local Taliban had at times banned girls from attending school. Her advocacy has grown into an international movement, and according to Pakistani Prime Minister Shahid Khaqan Abbasi, she has become "the most prominent citizen" of the country.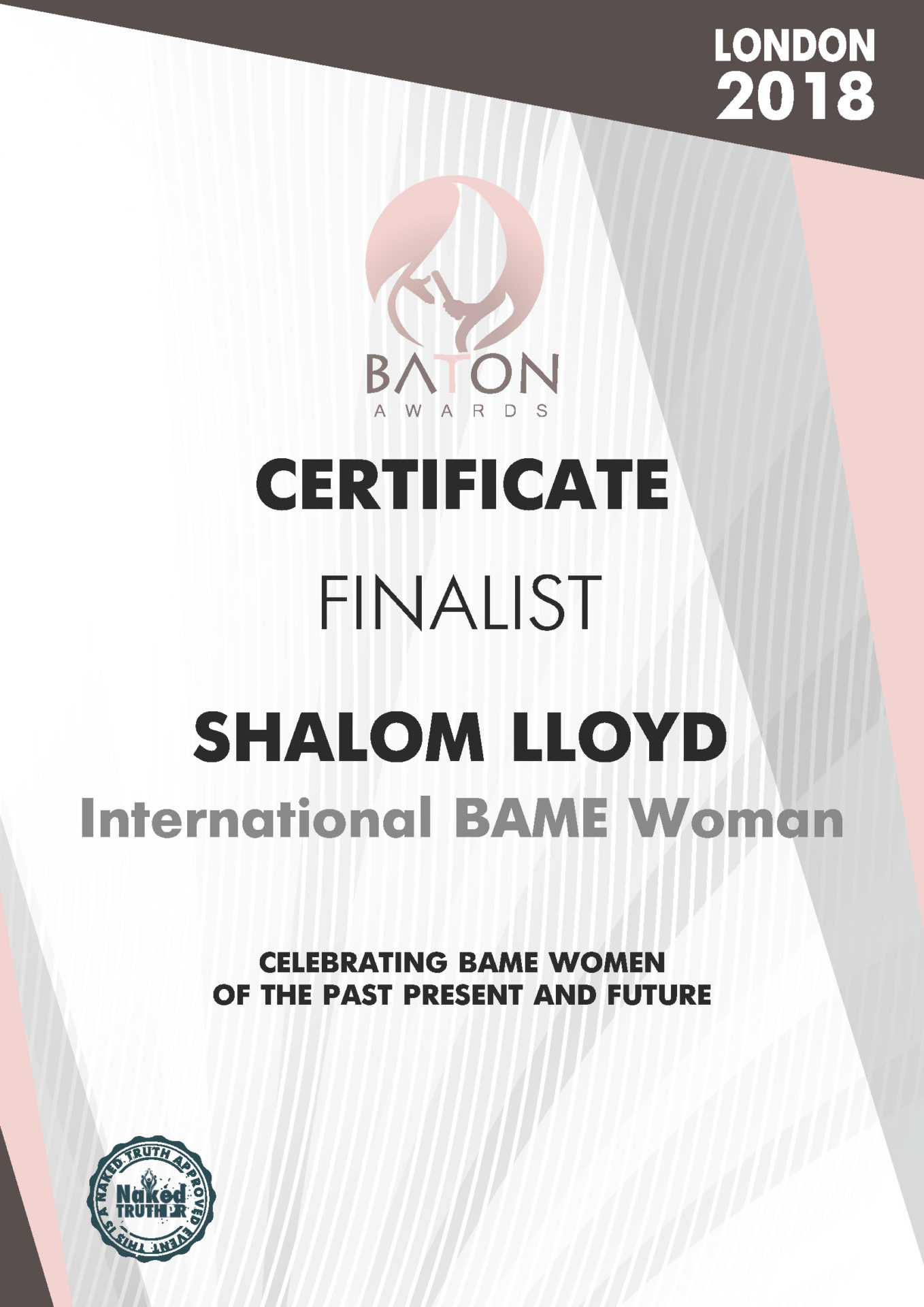 Shalom Lloyd
Shalom is Accomplished in the corporate world as a global leader and entrepreneur. A commonwealth champion who promotes ethical products via her company 'Naturally Tribal Skincare' sourced from African women to provide them with sustainable incomes.
She is an award-winning global STEM Ambassador focused of strategy, leadership and connecting with the right people to the right opportunities, doing this by continuously challenging the status quo, with integrity, passion and fairness.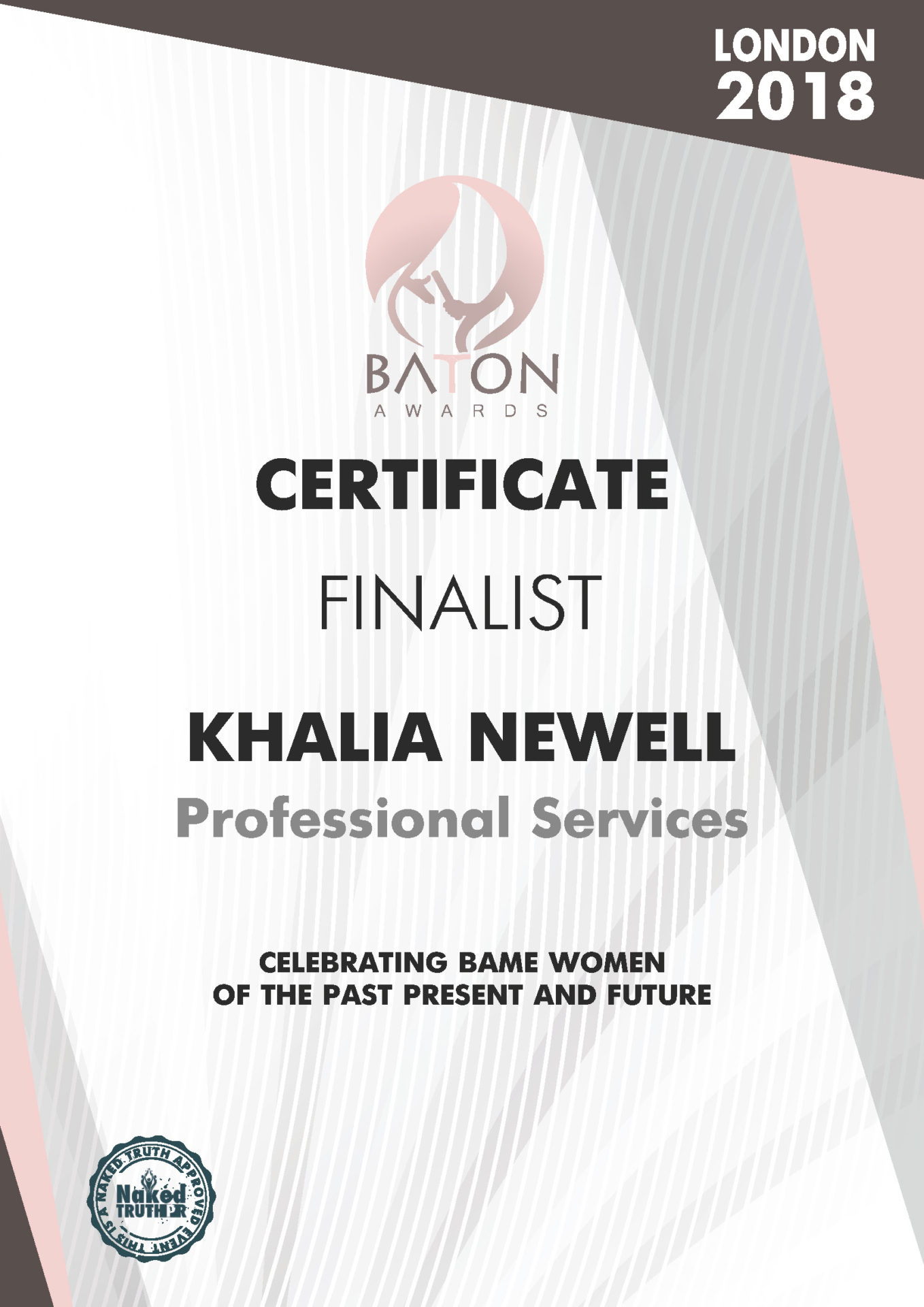 Khalia Newell
Khalia sits on The Black Professionals Forum and also the Chief Controls Office Junior Think Tank at Barclays. As part of this initiative she is working to improve the number of female Directors and Managing Directors within the Chief Controls Office; with a focus on progression for women of colour. In addition to this, Khalia has devised Director/Managing Director Leadership training across the Barclays Group to help promote diverse senior leaders and she continues to mentor many women from underprivileged backgrounds along her journey.
Her work has been recognised by the Duke and Duchess of Cornwall where she received an invitation to meet Prince Charles at St James' Palace and also an invitation to assist the Advisory Board for an All Party Parliamentary Group on Diversity and Inclusion in STEM in 2018 following her TEDx Talk in 2017 'Why Diversity Initiatives Fail'.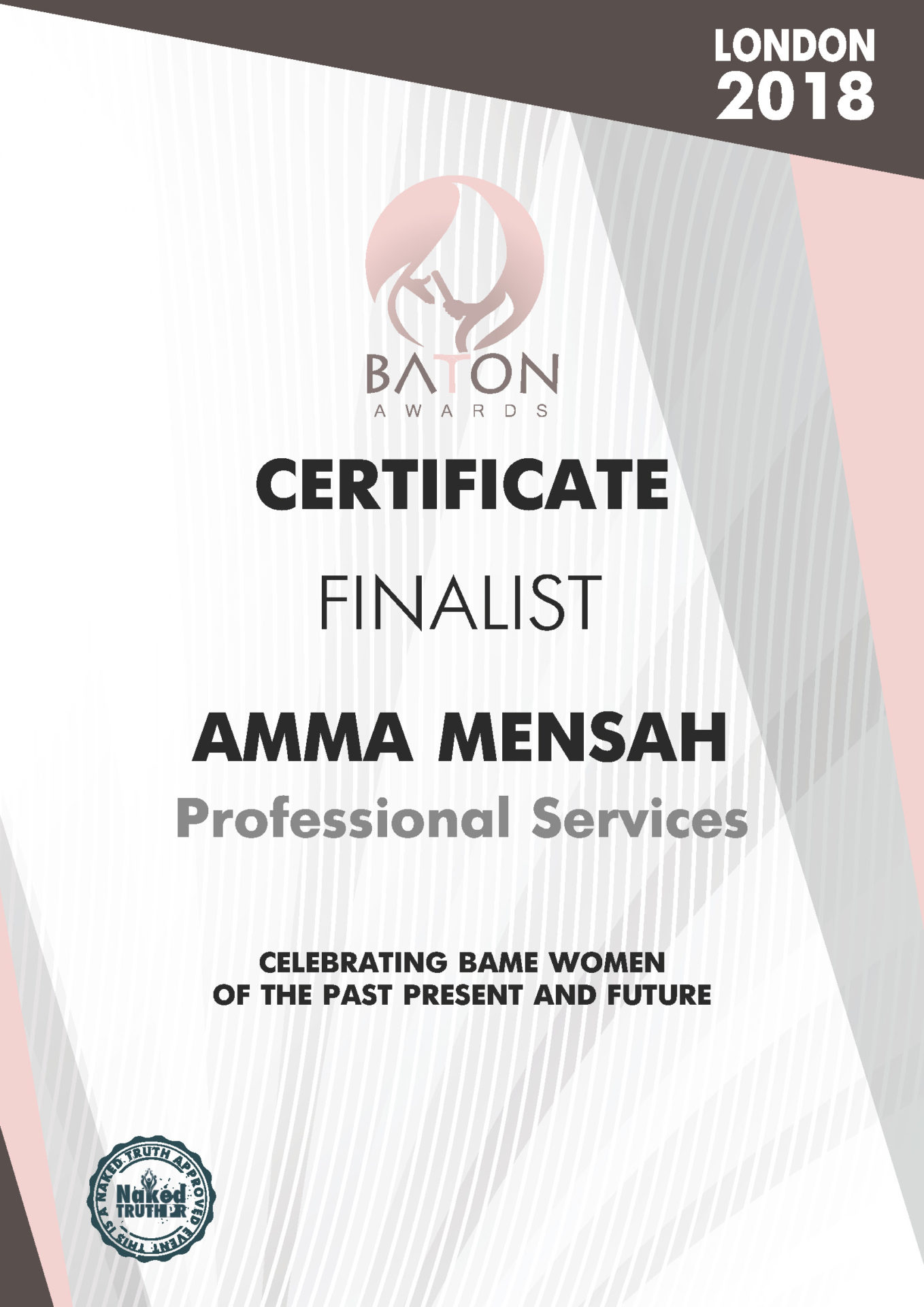 Amma Mensah
Through her work as founder and executive director of Beyond the Classroom (BTC), Amma provides leadership-skills, mentoring and work experience opportunities to girls as young as 11.  BTC's Girlhood to Womanhood programme is unlocking a well-equipped pipeline of diverse talent, enriched by the resilience and determination forged through difficult life circumstances.
Amma, is an exceptional individual with not just the skills to engage and develop young people but also to inspire them to achieve greater things. Her work with young women from inner London is a joy to behold and Amma's own energy and determination show through in all her enterprises.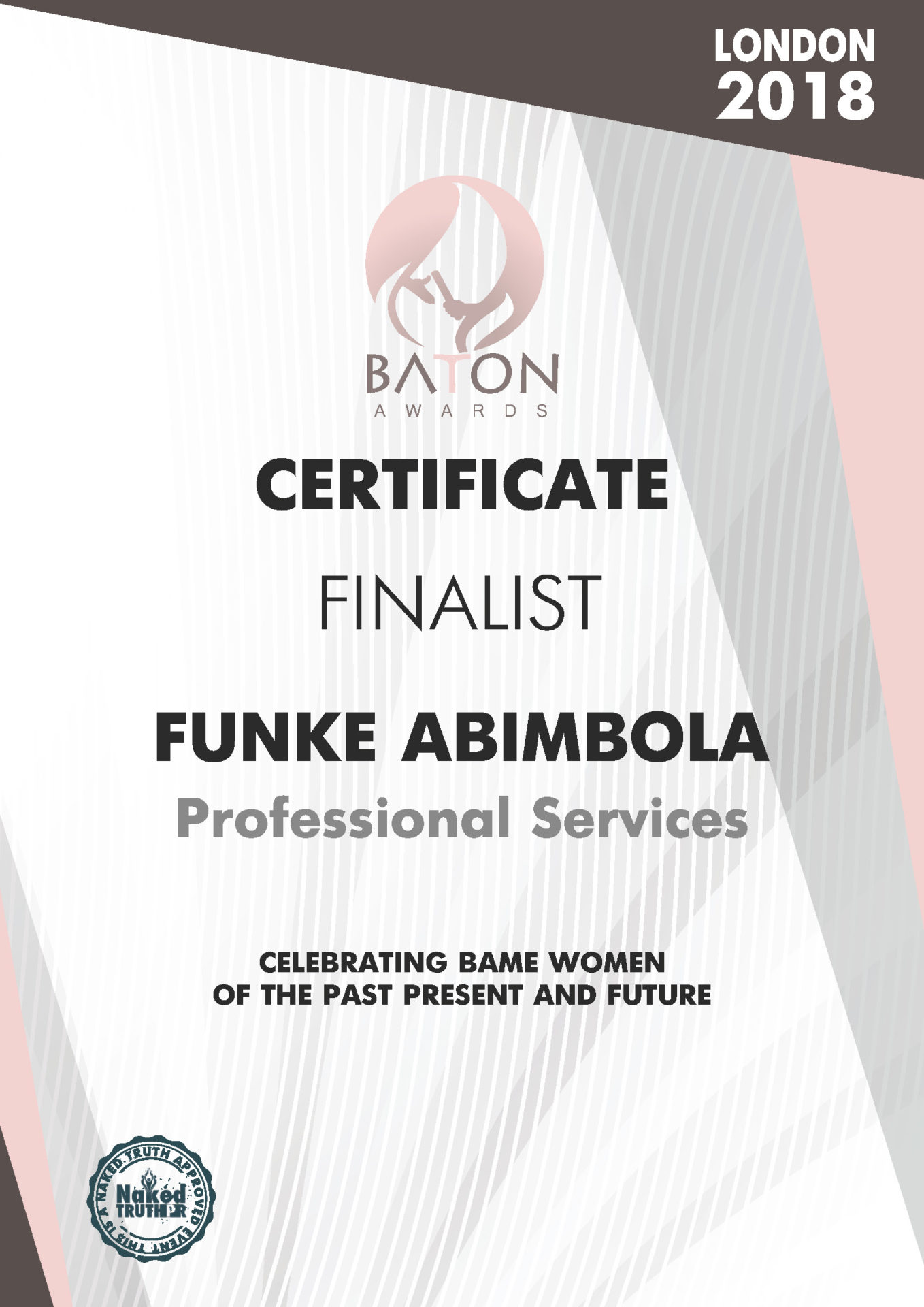 Funke Abimbola MBE
This multi award-winning performance-driven Senior Executive has 18 years' comprehensive achievements across not-for-profit, manufacturing, professional services, financial services, technology, biotech and retail disciplines.
She is ranked as one of the top 100 most influential leaders of African/Afro-Caribbean descent in the UK in the 2017 and 2018 Powerlists. In June 2017, She was awarded the M.B.E. (Member of the Order of the British Empire) by HRH Queen Elizabeth II for services to diversity in the legal profession and to young people.
Lord Hastings Integrity Award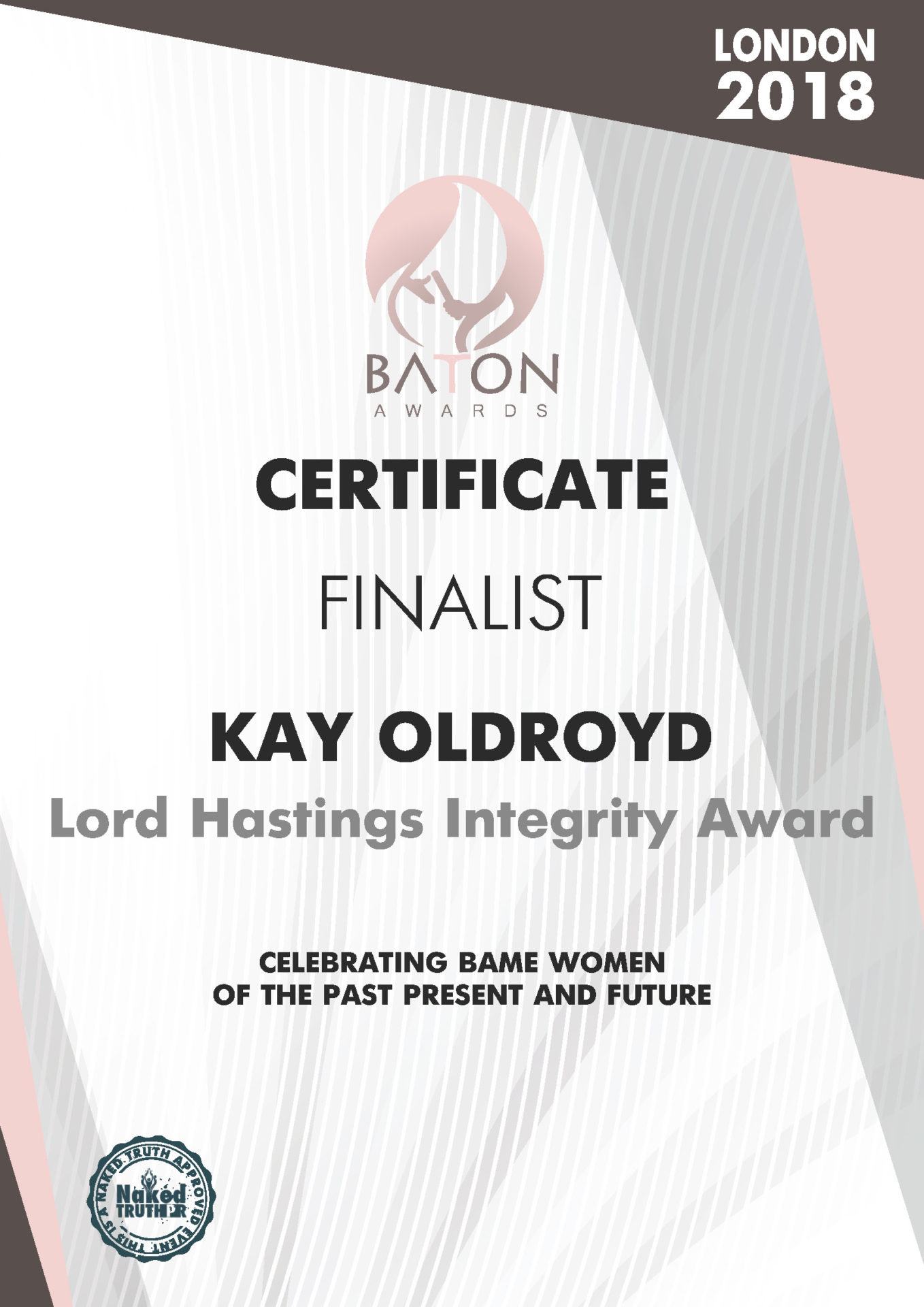 Kay Oldroyd
For 10 years Kay has been an advocate for the positive promotion of young people which  she demonstrates through the on-going work she delivers  through BYA Awards which is an annual celebration that publicises the excellent achievements of Black Youth within the UK and the impact they have within the country.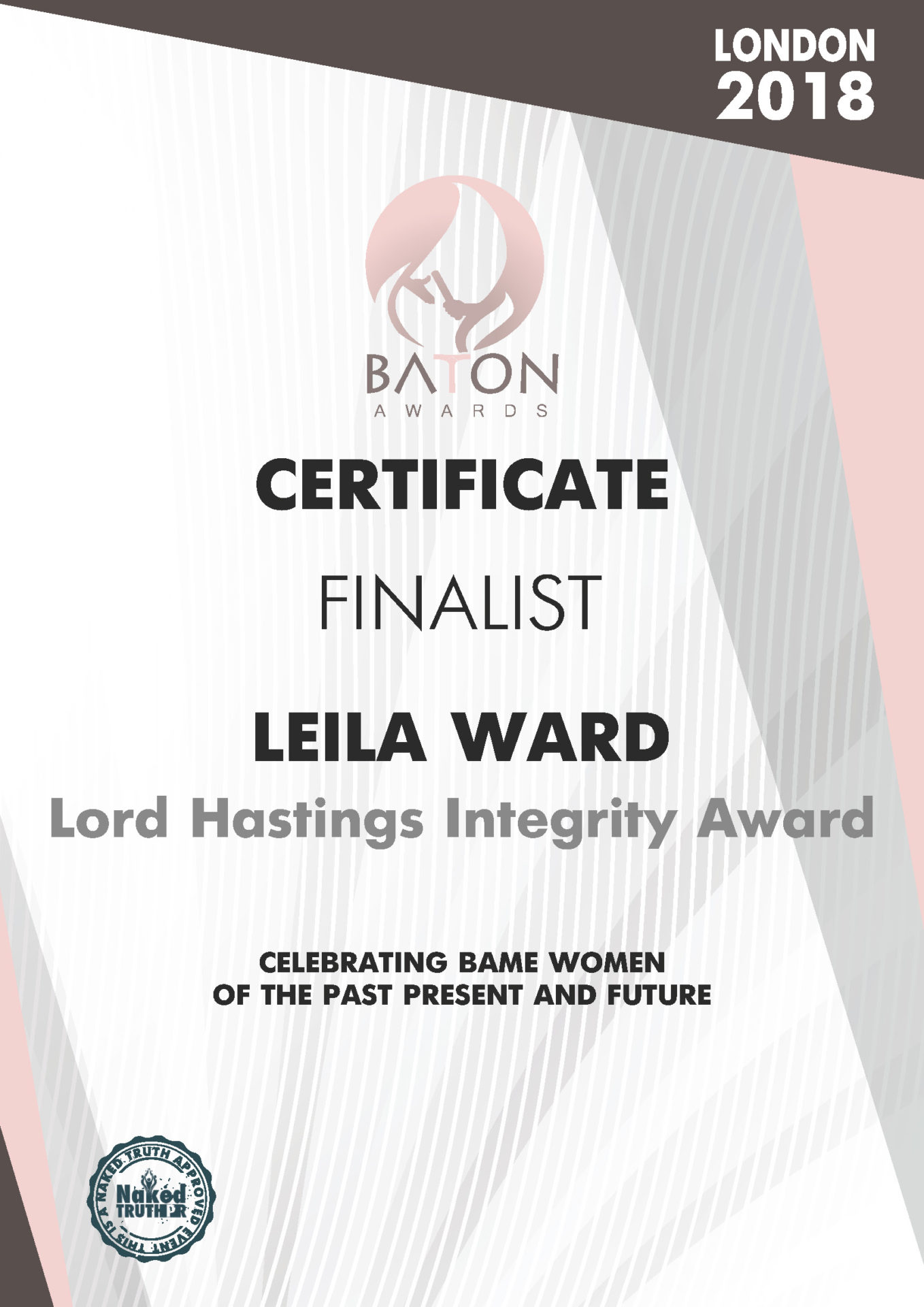 Leila Ward
Leila Ward is an educator and a poet born in British Guiana in September 1936. After blazing a trail as a pioneering teacher trainer,  Leila began writing poetry in the women's Study Centre after reading for a Masters Degree in Rights in Education at the Institute of Education. In 1995, she returned to Guyana as a reading specialist. Her first book of poetry, REDD MEANS TO COMB was published by Minerva Press in 1996.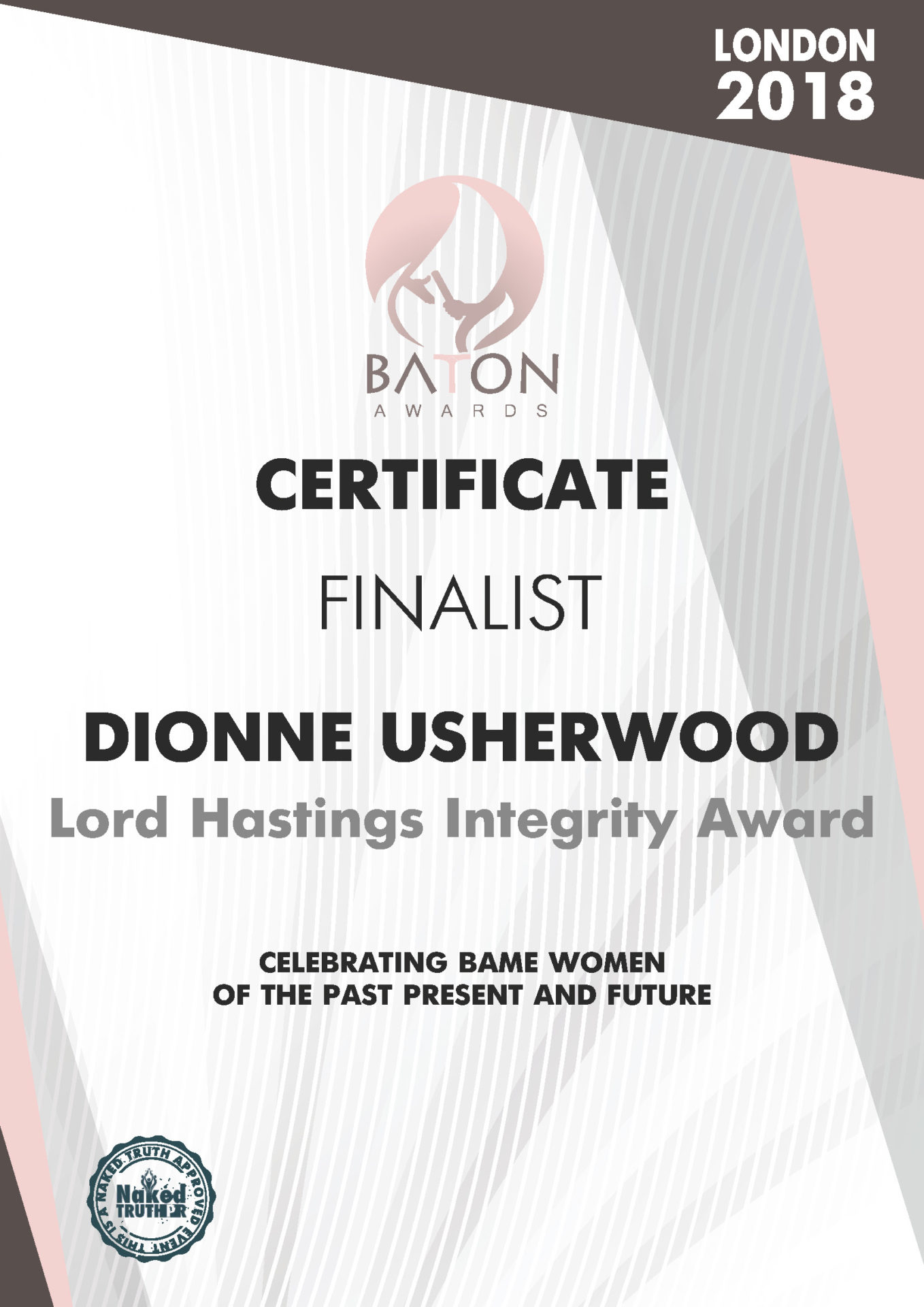 Dionne Usherwood
Dionne is the Head of Children's Integrated Commissioning for the London Borough of Camden and Camden's Clinical Commissioning Group. In 1999, she was the second person to receive a Diana Award, receiving the award for her extensive work in the community as a teenager, particularly for a film on sexual harassment that was toured in schools in Brent, North West London. She has continued to be a part of the award, helping it shape and watching it grow to over 50,000 award holders across the globe.
Against All Odds (Batons Founder Award)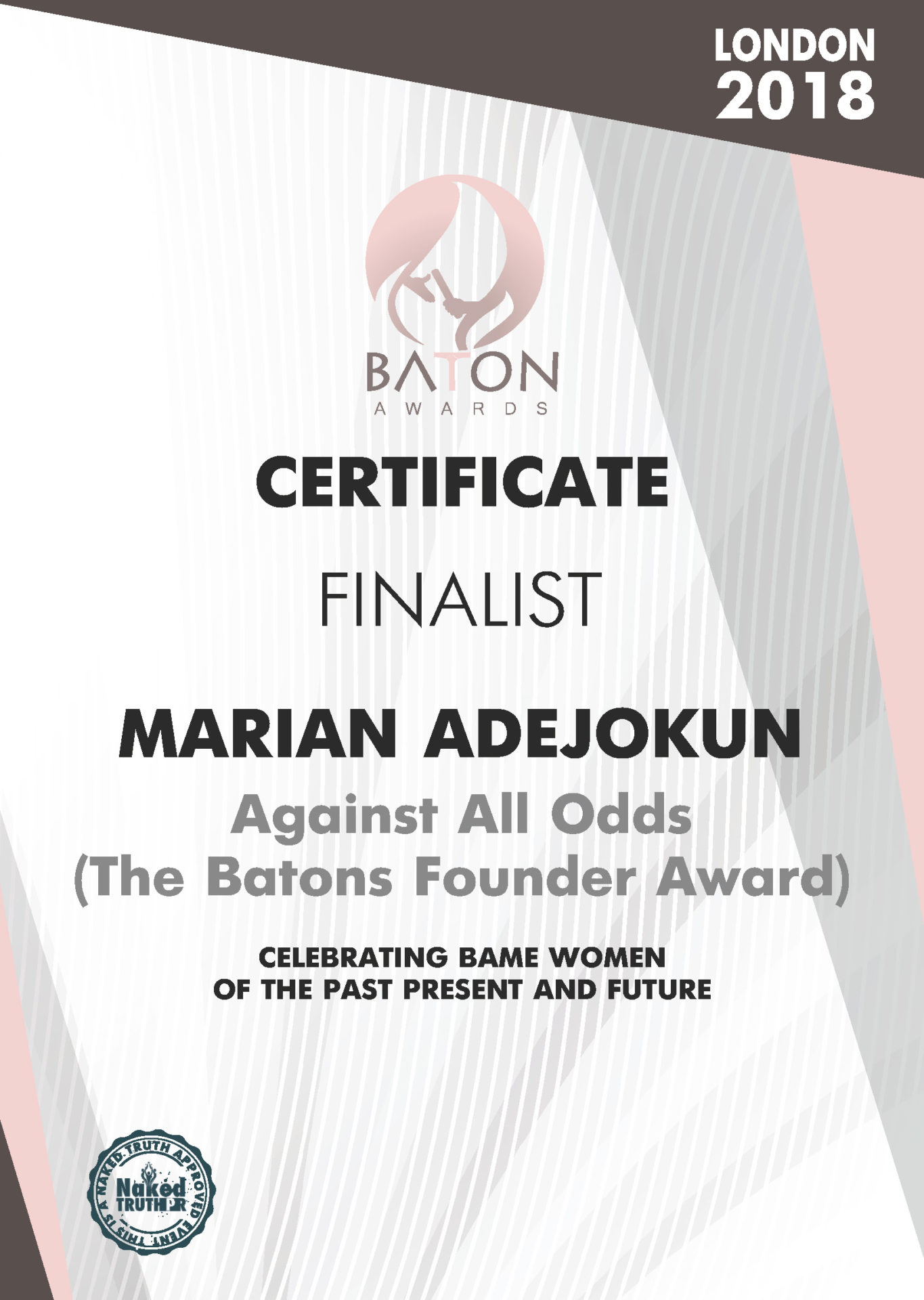 Marian Adejokun
Born and raised in Atlanta, Georgia, Marian Is passionate about empowering youths worldwide, and impacting young lives. In 2011, she suffered a rare allergic reaction to eye drops which caused her skin to peel off and she was in a coma for a month. Despite the odds, Marian pulled through and has gone on to inspire thousands since.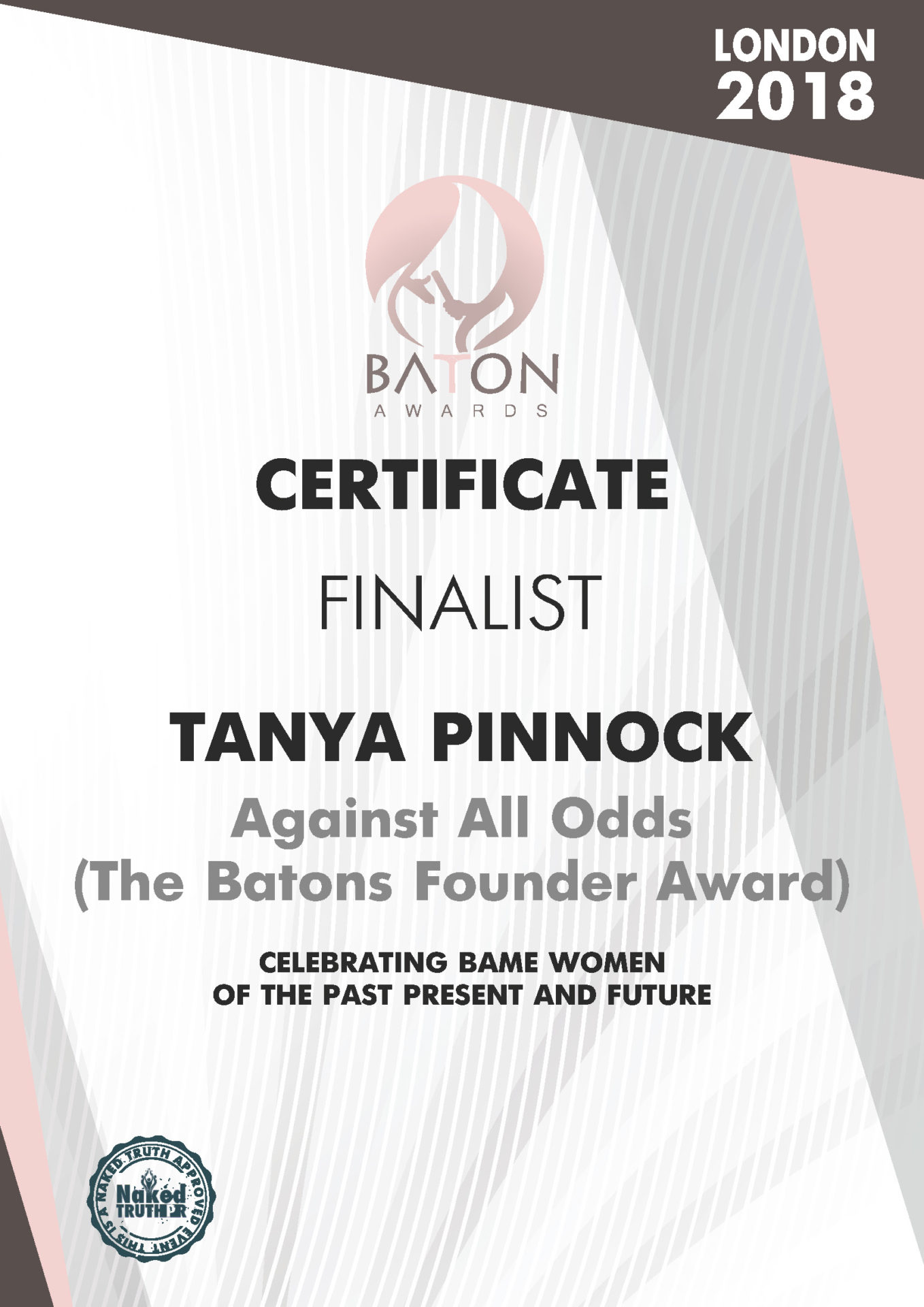 Tanya Pinnock
After suffering years of domestic violence at the hands of her ex-partner Tanya attempted to flee the relationship. Subsequently In 2016 Tanya was violently attacked by her ex-partner who stabbed her repeatedly in public.
Tanya is phenomenal and her journey one which inspires others to speak out against domestic violence.
Charlotte Crowl
Charlotte is an inspiring cancer survivor who specialises in helping people to whose lives have been affected by cancer. The author of 'Cancer, the hidden truth: the stuff no one tells you.'
Charlotte is a lifestyle advisor, speaker, entrepreneur, award winner, Huffington Post contributor and a true survivor.
Key Dates
October – Black History Month
12th October – Adjudication Panel select shortlisted candidates
25th October – Launch and Shortlist Event, Houses of Parliament
29th November – The Baton Awards Ceremony
GET TICKETS